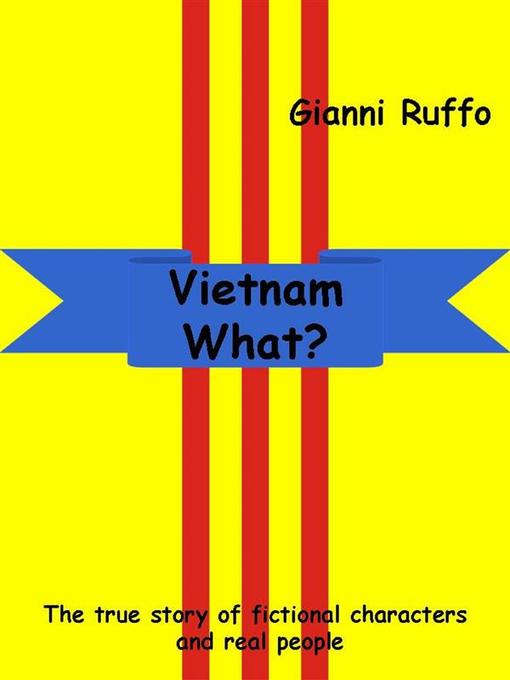 Gianni Ruffo, the auther of Vietnam What? The True Story of Fictional Characters and Real People (190 pp., $7.99, paper; $4.99, e book), lives in Campobasso, Italy, and works for a bank. He has no military background, but has always been "keen on military history," he says, particularly World War II and the Vietnam War. He tells us he has a collection of more than 300 documentary items about those wars.
The promise made in the book's subtitle is kept in the body. We encounter many fictional characters, including Johnny, the protagonist, and we also find that the author has put to good use many of his reference artifacts, especially the books. We get potted encounters and dialogue from such Vietnam War icons as the sniper Carlos Hathcock, Lt. Col. Hal (We Were Soldiers Once) Moore, and a surprise from Dieter Dengler, the German-born Navy pilot who was shot down in Laos, taken prisoner, and later escaped from his Viet Cong captors.
This reader encountered too many clichés, and soon got sick of phrases such as "ready in a wink," "saving their bacon," and "straight from the horse's mouth." Johnny is a totally unbelievable CIA agent. His frequent use of words and phrases such as "knackered," "car bonnet," "rookies" for newbies, and "stinks like a polecat" did not help bring him to life. When he noshed on meatballs, I was tempted to quit reading. But I persisted.
The book gets us to the 1968 Tet Offensive, and Johnny goes on and on about how we could have won the war if we'd only used A bombs. "A couple of atomic bombs," he says, "could do the job."  I did hear that said from time to time when I was in Vietnam, but most folks didn't want it to happen. Or so they said.
Spoiler alert:  At the end of this little book we find out that it was all a dream. I was relieved.
If you are going to read only one novel or memoir about the Vietnam War, you'd do better to go elsewhere. The book did amuse, but I believe Dieter Dengler's Escape from Laos would be a better place to start reading.
—David Willson