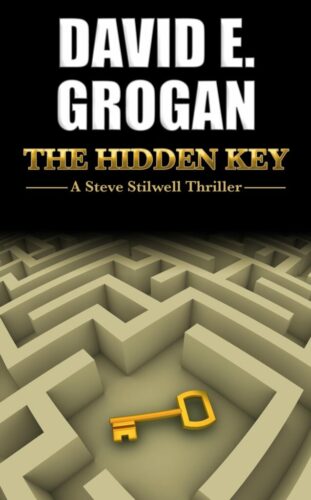 David E. Grogan's The Hidden Key (Camel Press, 250 pp. $15.95, paper) is the third book in his Steve Stilwell series of thrillers. Stilwell is an attorney who works for himself in Virginia. He previously served as a U.S. Navy attorney with the Judge Advocate General's Corps–as did the author.
The action kicks off immediately as we learn that a member of the American military has smuggled an ancient clay-tablet out of Iraq and taken it back with him to the U.S. Something takes place in the very first chapter that lets you know that just about anything is likely to happen in this book. There's more action in the first two chapters than in many entire books.
Stilwell, who is going through a divorce, has been out of the Navy for six years. Casey Pantel is a partner in his law office. She barely survived an Army helicopter crash. Phan Quốc Cường also works for him. He once saved Stilwell's life. In return, Stillwell helped him and his family escape from Vietnam.
Stilwell meets with a wealthy client and we learn that an active black market in antiquities has been in place since the beginning of the Iraq War. Museums and historical sites have been looted for items that are solde to raise money for Al-Qaida. Before long, his client is dead.
The tablet falls into, then out of, Stilwell's hands. It appears that it's not an ordinary tablet from the distant past. There's something unique and important about this tablet. The writing on it may be a key to an ancient map of Babylon, or even the prized map itself. Or a Babylonian map of the world. Bad guys have killed in an attempt to obtain it. The good guys are after it as well, in the guise of FBI Agents Crosby and Fields who are assigned to the bureau's Art Crime Team.
The holy Shroud of Turin becomes a plot point, as does the legendary Fountain of Youth and the biblical Garden of Eden. The action takes place in Maryland, Missouri, and Virginia, as well as in Italy, India, and Bahrain. Grogan includes several important female characters in a novel with a bit too much stilted dialogue.
Overall, the book reads like something written in the 1930s, perhaps by Sax Rohmer, the English novelist who created Dr. Fu Manchu.  At one point Grogan writes, "Steve felt like a detective in a B movie."
This is a B novel—more in the "boys own adventure" genre than a sophisticated thriller. Still, it was fun to read.
The author's website is davidegrogan.com
–Bill McCloud