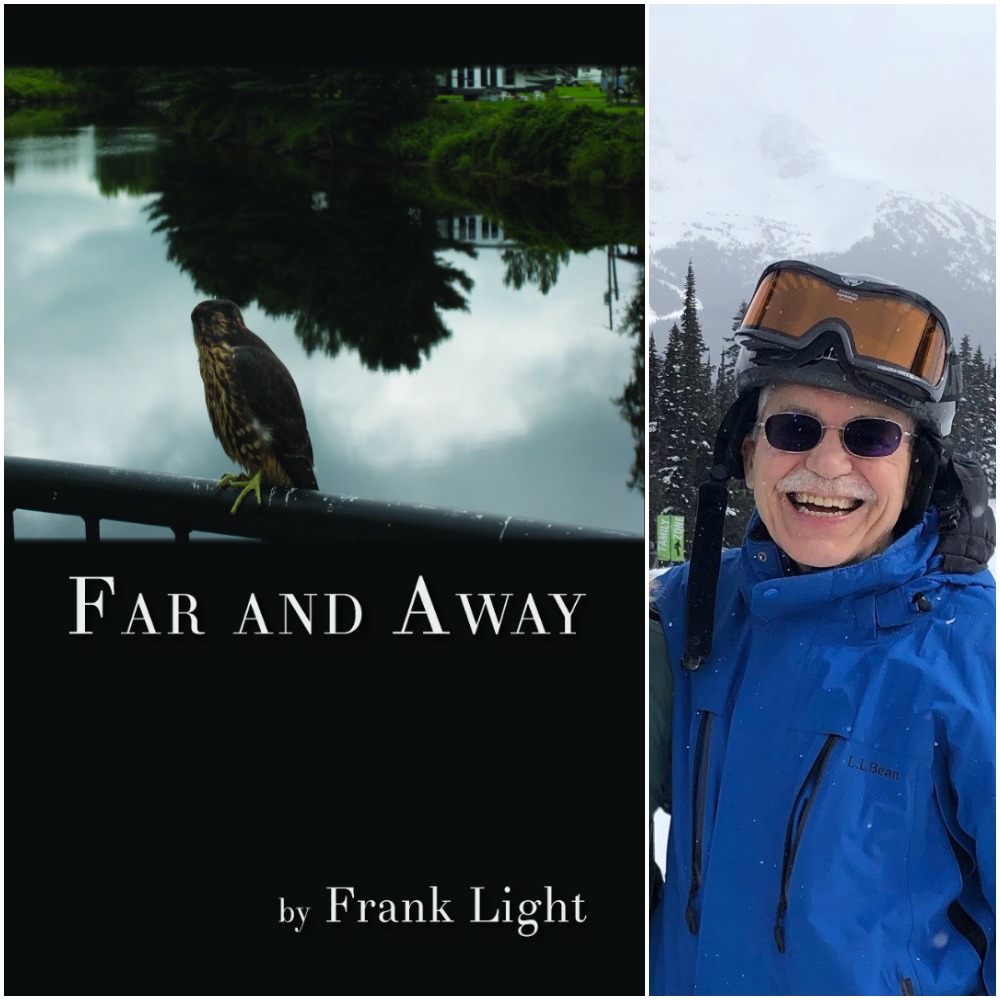 Frank Light's Far and Away (Finishing Line Press, 21 pp. $14.99, paper) is a poetry chapbook containing five poems—or eight, depending on how you count them. Its twenty pages tell of several lifetimes and a few trips around the world, including to South Vietnam during the American war. Light was drafted into the Army and served a 1967-68 Vietnam War tour of duty in Nha Trang.
The title of the first poem appears to be a made-up word–something a writer can more easily get away with in poetry. Said title, "Cotophrasis," comes from the idea that it's an ekphrastic poem about a painting by Frederic Edwin Church of the volcano called Cotopaxi in the Andes. The first line of this first poem is a great one: "Church went south of south."
The second poem, "World of Wonders," is divided into four parts. Each is also a stand-alone poem. One of them is a prose poem that creates a Swedish scene that comes to life as you read the descriptive stanzas. Another one makes interesting use of the space on the page and includes a French phrase that can be read as both a question and a reply, a great use of word play. This poem also deals with two groups in southern Morocco, non-believers and believers. Or perhaps it's non-believers becoming believers.
The third part of the second poem drops us into the Long An Province in the Mekong Delta in southern Vietnam. The fourth part—a prose poem that includes a sentence that is 118 words long and contains seven commas—puts us in a Spanish town near the French border.
While reading these dense (that's a good thing) poems we end up dropping anchor or pitching a tent in Gibraltar, the Congo, the Casbah, Dakar, the Canaries, the Sahara, and other places, primarily in the Middle East. Memories of past conflicts and wars keep bubbling up.
In Frank Light's poetry there are no add-on or throw-away lines, so there's great significance in words such as "her sunglasses which you broke rolling over." This is a personal, challenging, small collection of poetry that rewards the reader who confronts these human adventures. Despite the title, I'm left with the sense that one can go far without actually going away. The final poem, fittingly, tells of a fruitless search for a certain gravestone in a cemetery.
Here are my favorite lines from the collection:
Full roof, half moon. Stars swoon.
Make a wish.
The book's page on the publisher's website is: finishinglinepress.com/product/far-and-away-by-frank-light/
–Bill McCloud