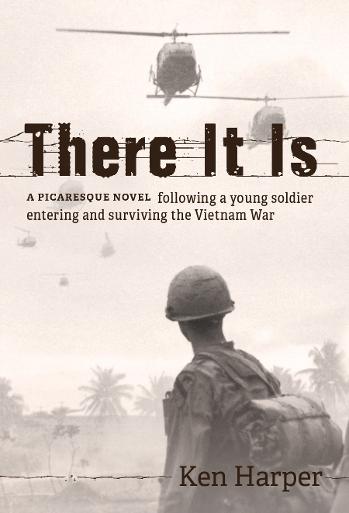 Ken Harper, a veteran of the Vietnam War, wrote two novels prior to his death in 2018. His wife was determined to get them published. After reading his first one, the mostly light-hearted, humorous There It Is (Luminare Press, 533 pp. $37, hardcover; $25, paper; $5, Kindle), I greatly look forward to the publication of the second novel in 2021.
Harper's main character, Farragut Birdwell, tells his story in a self-aware, sarcastic, smart-ass manner. One of the delights of the novel is seeing Birdwell mature during his year in the Vietnam War.
Birdwell grew up in Baltimore. When he joined the Army he ended up being assigned to Fort Holabird, the home of the Army Intelligence Center, in his hometown.
Birdwell gets permission to start up a boxing club at Holabird, which he hopes will allow him to avoid "Saturday morning shit details." When he tells his World War II Navy vet father about his pugilistic plan the only advice he receives is, "Hit more, get hit less."
Birdwell spends off-duty time at an off-base coffeehouse, smoking weed and listening to literary discussions. Knowing he would likely be shipped to Vietnam, a buddy's girlfriend says he should "go to Canada and avoid the whole shitaree." Another buddy refers to Birdwell's likely eventual destination as "Viet-fucking-death-comes-knocking-Nam."
His job at Holabird involves doing background checks for security clearances. He gets pulled into some illegal activities, which result in him getting orders for Vietnam. It's nearly the half-way point of the book when Birdwel larrives in country at a unit in Saigon that he's told is "so far from the shit we can't even smell it." Before long, though, he's sent into the field. At his new location he sleeps fully clothed at night, his rifle at arm's reach.
Birdwell is not sure how encouraging an early letter from his father is when it says he should remember that "no matter how bad things get, they can always get worse." Indeed, Birdwell ends up getting wounded in action. His job is coordinating intelligence, and he spends time gathering information on troop locations, friendly and non-friendly. He works a lot with maps until an officer tells him, "The map is never the territory—to know the territory means remaking the map. Which means we're going into the territory."
Harper includes several jarring incidents of extreme violence that stand out from the way most of the rest of the book is written. That's appropriate, as violent acts can often lead to a sense of shock, which seems to be what's happening here.
Not only is Birdwell telling this story, but several times he lets the reader get into his mind. In those cases we read short chapters then immediately learn that what we just read didn't actually happen. Apparently they were merely fleeting thoughts in his head. That makes for a wild ride.
This book is fun to read, with a chuckle on page after page. Even some of the darker moments are treated with humor because if we don't laugh at them we might just go crazy.
Or, as we often said during the war: There it is.
The book's website is harperthereitis.com
–Bill McCloud