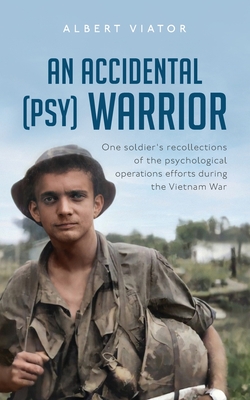 Albert Viator's An Accidental (PSY) Warrior: One Soldier's Recollections of the Psychological Operations Efforts during the Vietnam War (Palmetto Publishing, 278 pp. $19.99, paper) is, as the subtitle says, a recounting of the author's tour of duty in the Vietnam War as a psychological warfare (PSYOPS) specialist.
Al Viator enlisted in the Army in 1967 with the hope of obtaining an education in journalism. He signed up for three years, made it into the Army's Defense Information School, and received a dual MOS of 71R 20 (journalism) and 71Q 20 (broadcasting). He then volunteered to go to Vietnam—not to save the world from communism, but to get on-the-job training in his two occupational specialties.
The plan was to as a broadcaster for the Armed Forces Vietnam Network Radio or as a journalist with the Stars and Stripes newspaper. But to his dismay, Viator was assigned to the 4th PSYOPS Group in Saigon and then sent to the 6th PSYOPS Battalion in Bien Hoa. After a few months, he was transferred to the 199th Light Infantry Battalion in Lai Khe.
For most of his tour, Al Viator was on his own and found himself in many combat situations. Infantry units wanted him on hand to broadcast messages over a high-powered PA system to try to get enemy troops to defect. When he wasn't slogging through rice paddies with the grunts, Viator could be found in a Huey or aboard a small plane littering the landscape with paper leaflets promoting the Chieu Hoi program, which encouraged enemy troops to come over to the South Vietnamese Army
Viator completed his tour in Vietnam, put in another year in the Army stateside, and mustered out in 1970. After earning a degree from Boston University, he spent more than 30 years traveling the world as a journalist and a video producer for National Geographic, ESPN, PBS, CNN, and other media outlets.
In a very casual manner, Viator tells a lot of interesting stories in his war memoir. Throughout much of the book I felt as if I were having a conversation with him and could envision many of the places he described. 
I enjoyed reading An Accidental (PSY) Warrior and highly recommend it. 
–Bob Wartman