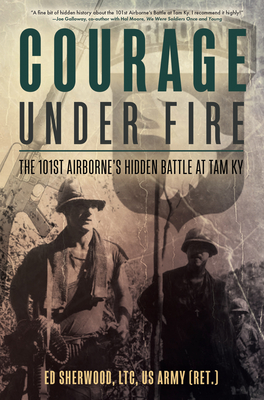 Retired Army Lt. Col. Ed Sherwood's Courage Under Fire: The 101st Airborne's Hidden Battle at Tam Ky (Casemate, 360 pp. $34.95, hardcover; $15.99, Kindle) takes a close look at that virtually unknown 1969 Vietnam War battle. The combat at Tam Ky very much resembled what happened during the controversial American frontal assault on Hamburger Hill a few weeks earlier, which is why political and military leaders kept what happened at Tam Key under wraps fearing more negative repercussions.
A highly organized researcher and writer with the reader constantly in mind, Ed Sherwood writes for the moment, as well as for posterity. His book provides a clear picture of what infantry fighting in the Vietnam War was really like. In doing so, Sherwood fulfills one of his goals: by presenting a picture of frontline camaraderie, he aims to encourage young people to serve in the military. Before being wounded and incapacitated early in the battle at Tam Ky, Sherwood led a Delta Company platoon in the 1st Battalion, 501st Infantry in the 101st Airborne Division.
As a retiree, Sherwood saw that historians had ignored his men, and so he devoted five years to rectify that situation. He searching the official Tam Ky military records and interviewed more than 40 veterans who fought there. Sherwood summarizes his findings in the book in nine important appendices. Of particular note is his twelve-page analysis of newly elected President Richard Nixon's policy of Vietnamization. Sherwood's take on the political maneuvering involved with the transition of leadership from Lyndon Johnson's administration would delight Machiavelli.
He writes about Delta Company's operations in Hue, the A Shau Valley, and Tam Ky as part of Operation Lamar Plain. Sherwood initially limited his study to Delta Company, but expanded his history lesson by including the Alpha, Bravo, and Charlie companies of 1st/ of the 501st, as well as the Recon and Headquarters Company medical platoons.
Sherwood provides vivid insights into the operation by describing activities from both individual and unit perspectives. His findings illuminate the difficulty of operating in unfriendly territory without a definitive objective. His writing reignited my hostility toward political and military leaders who persisted in using unsound tactics.
He describes Americans, with an emphasis on Delta Company, as well-trained, physically and mentally tough men who lacked experience in extended firefights with NVA units. Mostly the men were young enlistees and draftees. Climate and battle attrition reduced the companies to two platoons each with junior sergeants leading understrength squads. Sherwood suggests that the odds were stacked in favor of North Vietnamese, who had better knowledge of the terrain, support of the local population, and many concealed and complex fighting positions in South Vietnam. The Americans depended heavily on support from artillery and air firepower, which eventually turned the tide at Tam Ky.
During a short assignment near Hue, Delta performed one recon-in-force mission, a new name for "search and destroy." The men assaulted a mountainous area by helicopter, killed two enemy soldiers on the first day, and during the following week swept the area for caches of food and weapons. They did "a lot of looking, but not much finding," Sherwood says.
Delta also spent a month conducting operations in the A Shau Valley from Firebase Pike. During that time Delta suffered casualties from errant friendly artillery rounds. Contact with the enemy was sporadic.
For each month of combat operations, Sherwood charts what was going on back in "The World," and each chapter concludes with a table of casualties and medal awards.
***********************
The heart of the book focuses on the initial combat operation and the decisive battle of Tam Ky and Hill 376. The battalion traveled to Tam Ky in C-130s on May 15, 1969, and made its first combat assault by helicopter the next day. Initially, Bravo Company took the brunt of punishment, losing six of the battalion's 12 KIAs on the first day. Charlie Company took the next beating.
Delta entered the thick of the fight on May 21. From there, Sherwood describes extended American sacrifices, suffering, and heroism against an enemy force of unknown size and location. As he puts it: "In a straight-up infantry fight at close quarters, the weapons, skill, and determination of NVA infantry is equivalent to our own."
Nevertheless, with a frontal assault from June 3-12 that felt like one continuous day, the Americans murderously slogged through mud and rain and fought through ambushes and small unit engagements on its way to the top of Hill 376, Sherwood says. The number of casualties was too high for public release. After securing the area, the men raised an American flag at the highest point.
Then, exactly as the troops had done at Hamburger Hill, they walked away from the battle site—but without public attention.
Sherwood offers seven conclusions that justify non-disclosure of the Hill 376 encounter for political convenience, which I found questionable particularly in light of present-day controversies over partisan political distortions of the truth..
—Henry Zeybel