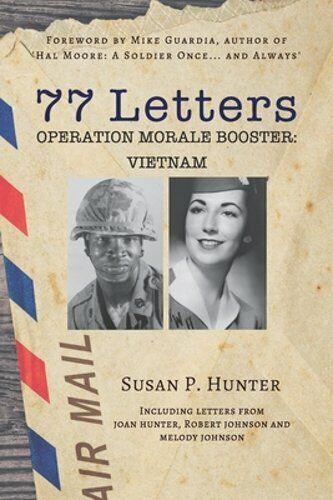 Susan Hunter's 77 Letters: Operation Moral Booster: Vietnam (Dakota Publishing, 286 pp. $14.99, paper; $9.99, Kindle) stems from a mission the author's mother, Joan Hunter, embarked on during the Vietnam War: to write letters to as many troops in Vietnam as she could. She began simply, by writing to a few commanding officers in the First Cavalry Division, enclosing letters that she asked to be distributed to men who weren't getting any. Her letters, composed on a 1964 IBM electric typewriter, were filled with positive news about her home life with an adoring husband and three toddlers. They brought lots of replies.
As Susan Hunter writes, her mother enlisted Scout troops, students at her children's school, and teenagers taught by her husband at a Boston high school to participate in her letter-writing campaign based at her home in Scituate, Mass.
A reply from career Army Sgt. Robert Johnson caught Joan Hunter's eye. Soon, they were corresponding regularly, the beginning of a connection that would continue for many years. Their "conversations" dealt with child-rearing, combat injuries—Bob Johnson received four Purple Hearts during his four tours of duty—interracial marriage, poetry, the visual arts, and good-natured maternal counseling. Johnson visited the Hunters during one of his stateside leaves.
The book came about after Susan Hunter found a box in the corner of the attic filled with the 77 letters that her mother and Bob Johnson wrote, along with photos, drawings, and newspaper clippings. When she began reading the letters to her mother, who was suffering from dementia, they proved to be therapeutic.
The letters trace Joan Hunter and Bob Johnson's relationship through ups and downs in the lives of both. After they finished sharing the letters, Susan Hunter began an Internet search for Johnson. She made contact with his daughter, which opened a new chapter in the story.
77 Letters is a nice read from a first-time author.
The author's website is susanhunterbooks.com
Tom Werzyn