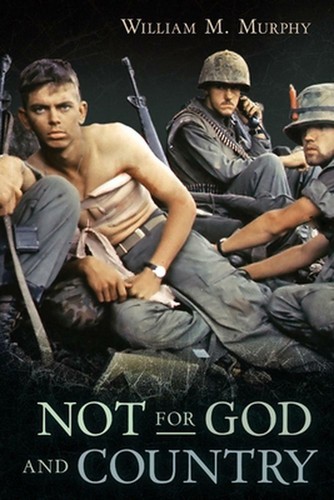 William M. Murphy served as rifleman with the 9th and 27th Marine regiments in 1969-70 in the Vietnam War. In his Vietnam War memoir Not for God and Country (Koehler Books, 286 pp., $26.95, hardcover; $18.95, paper), he accomplishes three significant literary feats.
First, the many battlefield stories Murphy describes confirm the thesis inherent in the book's title by emphasizing that he and his fellow Marines were fighting "to protect the life of the nineteen-year-old grunt next to us, and he was returning the favor." In doing so, Murphy strongly illuminates the feelings of his comrades, who came to believe the war "did not have to happen."
Riflemen fighting a war together form a strange brotherhood, Murphy says. Men who in the real world would not have been friends become friends. Grating attitudes and personalities are overlooked. Men who would never have been beer-drinking buddies back home bond. In the jungles of Vietnam they would die for one another. It was that simple, Murphy says. 
Second, Murphy examines Operation Allen Brook, an all-but-ignored sustained Marine attack on North Vietnamese Army reinforced bunkers on Go Noi Island south of Da Nang that lasted from May to August of 1968. He details the horrors of a stalemated battle replete with accumulating dead bodies. He withholds nothing in describing the effects of weapons on flesh and bone. Late in the operation, the Marines resorted to a near-suicidal frontal assault against heavily defended fortifications. The U.S. government downplayed Allen Brook in fear of a public outcry because of the high number of American casualties.
Murphy also vividly recalls his unit's frequent engagements during Operation Dewey Canyon six months after Allen Brook, "wandering the mountains and seeking out the enemy." His fascinating recollections center on the exploits of four Marine Medal of Honor recipients—three of whom were young enlisted men recognized posthumously.
Murphy's recounting of Operation Allen Brook reminded me of Ed Sherwood's Courage Under Fire: The 101st Airborne's Hidden Battle at Tam Ky, which revealed fighting that also was kept under wraps by the U.S. government due to heavy American losses.
Recalling his Marine Corps career from enlistment to separation constitutes Murphy's third notable literary achievement. Basically, he provides a primer about an enlisted man's military life in the late 1960s and early 1970s.
He describes the ins and outs of political influence on the military, on duty selection, training, deployment, and repercussions associated with returning to civilian life. He compares those who fought in the Vietnam War with today's troops and the conditions under which they operated. The book is an excellent starting point for young people seeking knowledge about military service.
Not for God and Country closes with sections that break down Vietnam War casualties by deaths per year, followed by KIA data: age, home state, race, pay grade, branch of service, and country of occurrence. It also includes MIA information and the numbers of allied nations' KIAs.
Bill Murphy served one enlistment. Afterward, for thirty-five years, he excelled in an environmental law career, and has written six guidebooks about touring the Great Lakes region. His website is williammurphyauthor.com/books
—Henry Zeybel