Jonathan and Sherrie Benumof's Letters from the Heart: A Young Army Doctor's 1969 Vietnam War Experience (Park Place Publications, 434 pp. $24.95, paper; $9.99, Kindle) contains 282 letters that Jon wrote to Sherrie during his 12-month tour in Vietnam. Fifty-one years after his return to The World, the Benumofs read the letters to each other, and decided to assemble them in a book with added comments for their children.
Fresh out of medical school, Jon Benumof was drafted into the Army as a Captain. He landed in Vietnam in January 1969, was sent to Fire Base Evans near the DMZ, and immediately became the head anesthesiologist with the 18th Mobile Army Surgical Hospital, aka, the 18th MASH, which primarily served the 101st Airborne, and was very busy.
For most of Benumof's 12-month tour of duty the 101st was fighting along the DMZ—including at the infamous Hamburger Hill and throughout the nearby A Shau Valley. American, South Vietnamese, Viet Cong, and North Vietnamese Army troops, along with civilians, were treated at the 18th MASH. This made for very long hours in the OR. It also required a very strong-minded person to deal with the daily onslaught of the vicious results of the war.
Benumof was medically unprepared for this. He had had only limited training in anesthesia and surgery, yet through desire, intelligence, and research he quickly got up to speed. He displayed an admirably unrelenting concern and compassion for his patients.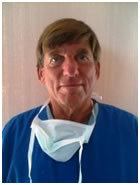 Working in a very dangerous area, Benumof and the other medical personnel put in superhuman hours dealing with horrendous wounds and making life and death decisions—sometimes during NVA rocket attacks. The almost daily letters between the newly married couple helped sustain them both throughout the time of isolation and loneliness.
Letters from the Heart is a good book that tells a great story, but it is not always easy to read. The memoir is interspersed with references to relevant letters. Those letters are grouped in the middle of the book and numbered L-1 through L-282. Having to continually move between the memoir sections and the letters kept me from enjoying a continuous read of Jon Benumof's impressive tour of duty.
–Bob Wartman