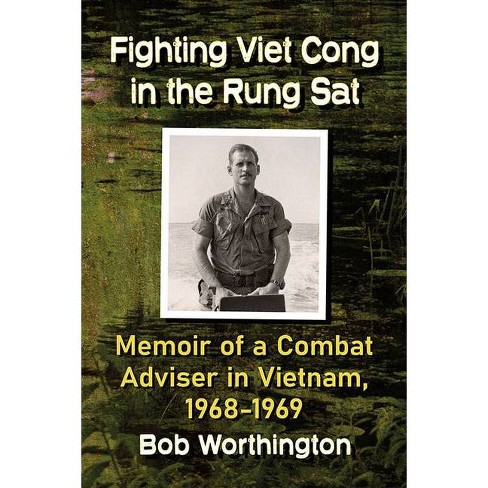 Bob Worthington's Fighting Viet Cong in the Rung Sat: Memoir of a Combat Adviser in Vietnam, 1968-1969 (McFarland, 283 pp., $29.95, paper; $13.99, Kindle) is not the usual Vietnam War combat memoir. Worthington was not a member of a ground unit fighting the Viet Cong or the North Vietnamese Army; instead, he was an adviser to South Vietnamese militia units. 
Worthington had an unusual career prior to the Vietnam War tour of duty he writes about in this book. He was a police officer while in college; served in the Marine Corps and took part in the 1958 landing in Lebanon; was inadvertently commissioned as a Chemical Corps officer, and put in a 1966-67 tour of duty in Vietnam.
Arriving in Saigon for his second tour in August 1968, Worthington was assigned to the Hau Nghia Province Advisory Team as the Trang Bang District Adviser on the Cambodian border. He was responsible for working with his Vietnamese counterpart, a South Vietnamese Army major, on the team's twofold mission—advising the local Vietnamese military forces and supporting pacification efforts. 
Working with some 500 Vietnamese militia soldiers in the district, Maj. Worthington's team provided intelligence about Viet Cong targets and supported efforts to stop enemy infiltration of troops and weapons from Cambodia. Speaking fluent Vietnamese was key to his success as an adviser, but his identification with the Vietnamese led to friction with the more kinetic efforts of the nearby U.S. Army 25th Infantry Division units. Despite his successes as an adviser, Worthington was removed from his position in December 1968 and reassigned to another advisory job in Saigon.
In late January 1969, Worthington was reassigned to Rung Sat Special Zone, part of the extensive river delta area south of Saigon where VC units often attacked American ships.  The Vietnamese military units there had been taking bribes from the Viet Cong and the U.S. Navy advisers in the area did not have the expertise to support ground combat operations against them. Working with the Navy advisory team and Navy River Patrol Group, Worthington's job was to support Vietnamese efforts to break the back of the local Viet Cong.
Worthington's book—his second Vietnam War memoir—addresses the complexities involved with the U.S. advisers working with Vietnamese units. While advisers had access to intelligence, mobility, and firepower assets unavailable to the Vietnamese militia units, Worthington still needed to traverse jungles on foot or patrol the rivers in small boats. His ability to speak Vietnamese and his personal relationships made him a much more effective adviser.
Worthington describes shooting water buffalos carrying weapons across the Cambodian border from a helicopter and running snatch missions to catch Viet Cong officials. He also suffered a near-fatal hookworm infection and a gunshot wound during his tour.
Worthington continued his unorthodox career after coming home from the war. He left the Army to attend graduate school and earned a PhD in Psychology, then rejoined as a psychologist and retired from the Army as a Lieutenant Colonel.
While Bob Worthington's account of his adventures in Vietnam was well worth reading, the real value of this book lies in his extensive descriptions of the American advisory efforts in the war. He addresses in detail the relationships between advisers and advisees and the role of the advisers in pacification efforts. 
If more U.S. military advisers had spoken Vietnamese as Worthington did, and had more personal relationships with the Vietnamese people, perhaps the war might have had a different outcome.
Worthington's website is bobworthingtonwriter.com
–Marshall Snyder