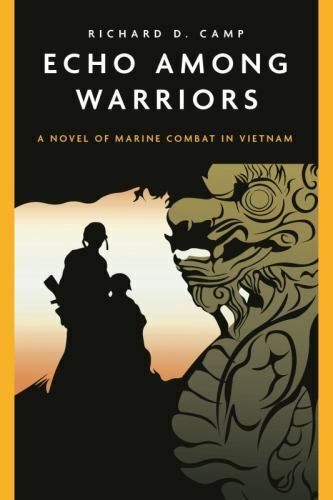 Echo Among Warriors: Close Combat in the Jungle of Vietnam (Casemate, 288 pp. $22.95, paper) by Richard Camp is an intense, you-are-there, fictionalized consideration of close-quarters fighting during the American war in Vietnam. The final ten chapters are as realistically and breathlessly action-packed as you will read anywhere.
Col. Camp served for 26 years in the U.S. Marine Corps, including a 1967-68 Vietnam War tour of duty as a company commander with the 3rd Battalion, 26th Marines. He has written 15 military history books, including a recent biography of USMC Gen. Raymond Davis.
All of the action in Echo Among Warriors takes place during two days in the fall of 1967 in dense jungle near Khe Sanh, an area in which Col. Camp saw action. The story is told in alternating chapters through the eyes of American and North Vietnamese participants.
It begins with Marines searching through the jungle for a reported NVA troop buildup in the area. At times, the men follow sandal prints as they move "deep in Indian Country." They come across a heavily used trail at the same time they receive intelligence from Montagnard tribesmen that large numbers of North Vietnamese troops are heading their way.
A short time later contact is made. Heavy fighting ensues. From this point, the story alternates chapters, taking us into the minds of the troops on both sides. Sometimes an action will be taken by the NVA in a chapter, and we read the result from the American side in the next one.
There's a lot going on here. We read of men being captured by both sides, booby-trapped bodies, hand-to-hand fighting, fighting through pain, and the "stink of death." When large helicopters land, they stir up elephant dung. Men fail to use proper radio procedure while under stress. Incoming artillery rounds land a little too close. There are fears of accidentally engaging other Americans at night, resulting in "intramural firefights."
Since this book only covers two days it includes quite a bit of welcome detail and minute-by-minute dialogue. A glossary explains the mil-speak so that the dialogue is both realistic and those unfamiliar with the terms can look them up while the rest of us rip along with the story.
The novel is dedicated to the late military historian Eric Hammel. I'm sure he would be pleased to be associated with this heroic story.
–Bill McCloud