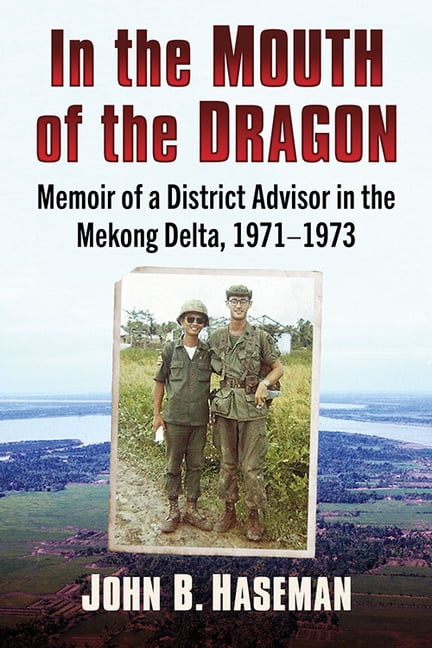 Retired U.S. Army Col. John B. Haseman served 18 of his 30-year career in Asia. That included two and a half years in Vietnam during the war. He tells the story of his second Vietnam War tour in his new memoir, In the Mouth of the Dragon: Memoir of a District Advisor in the Mekong Delta, 1971-1973, (McFarland, 277 pp. $29.95, paper; $13.49, Kindle).
Haseman served his first Vietnam War tour in 1967-68 with the 9th Military Intelligence Detachment in the Army's 9th Infantry Division in relative security at Bearcat Base, Dong Tam, and My Tho. In his second tour he served as a District Advisor, a task for which he volunteered and extended.
He returned to the combat zone at a time when the drawdown of American military units was well underway. Most of the time Haseman, his boss, and one enlisted man were the only Americans working for a South Vietnamese Army commander in charge of Popular Force and Regional Force soldiers—men, as Haseman puts it, "fighting for their family, for their friends, for their neighbors" against the Viet Cong and North Vietnamese Army. No regular force ARVN units operated in their area.
His ability to befriend officers and enlisted men brought Haseman success as an advisor. He was an eager student of Vietnamese culture and shares what he learned by taking part in the everyday lives of everyday soldiers. Best of all, he developed close ties with U.S. Air Force Covey Forward Air Controllers and successfully coordinated air support strikes, which made him popular among the men.
Haseman worked for twelve months at Ham Long and six months at Mo Cay, both located in the Mekong River Delta southwest of Saigon. The whole time he slogged through patrols alongside PF and RF troops.
Following his first fight, Haseman wrote: "Cordite from my M-16, fired in anger for the first time at an enemy. Relief when the firing stops and the wonderful, sensual feeling of adrenaline still pumping. And the feeling of savage delight at learning we killed four VC and suffered no friendly casualties."
As time went on, friendly casualties increased. After two superiors were wounded, Haseman became head of his district. The operational pace increased and on most days Haseman was either on a field operation, coordinating air strikes, or both. One afternoon he coordinated 26 separate air strikes. 
In analyzing events surrounding the Spring Offensive and a three-week Battle for Tan Loi, Haseman discloses bits of information new to me and far too surprising to spoil by mentioning them here. Suffice it to say, they make up the best part of the book.
I recommend In the Mouth of the Dragon to anyone who believes the Vietnam War was worthless. As Haseman shows, the U.S. chose to help people who desperately needed and wanted our help; there just weren't enough of them.
—Henry Zeybel