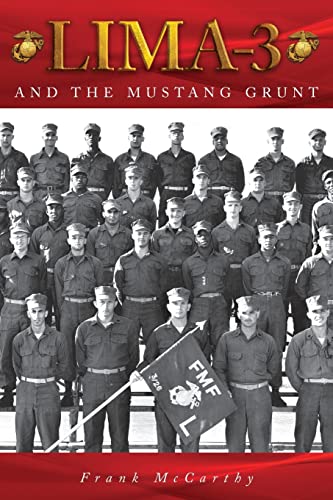 Lima-3 and the Mustang Grunt (FriesenPress, 300 pp. $35.99, hardcover; $17.53, paper; $8.99, Kindle) is a Marine Corps love story that chronicles Frank McCarthy's military career through his medical evacuation after being twice wounded in the Vietnam War as a platoon leader in L Company of the 3rd Battalion, 26th Marine Regiment. McCarthy's first tour with Lima-3 from late 1966 to early 1967 took place in in I Corps in Thua Thien Province (Hué, Phu Bai, Khe Sanh), which was among the most dangerous sections of the country.
McCarthy says that he began the book intending to write about himself for his descendants, but expanded it to focus on his young Marines. He researched battalion command chronologies, which didn't always agree with his recollections of what happened.
It would have been helpful if he included footnotes, as well as an index, a timeline, and a glossary, even though McCarthy defines terms the first time they are used. That said, his unquestioning love of his men and the Marine Corps needed no references. His pride in the Corps is also evidenced by his favorable comparison of Marine Vietnam War combat statistics with those of the other services and even with those of the Marines during World War II.
Readers, including some Vietnam War veterans, will find some of McCarthy's war stories jarring. That includes his account of the troop ship he came over on being hit with a devastating 80-hour typhoon. And the account of one of his men who had a leech crawl inside his penis with cringeworthy consequences. 
And the dehumanizing actions perpetrated on him during Parris Island boot camp, some of which would be subject to criminal prosecution now—or even then, if known. There also was the propensity of the new M-16 rifles to jam in combat, which cost many American lives in the war. And, of course, the horrible weather, fatigue, intense and sustained combat, ever-present booby traps, and the constant stress inflicted on McCarthy and his men, who averaged 18 years of age. 
That you can't use insect repellent to deter the brigades of malaria-carrying, insanity-inflicting, persistently buzzing mosquitoes for fear that the enemy could smell it does not seem far fetched since McCarthy contends he could actually smell the enemy.
I have two nitpicks. First, McCarthy refers three times to the Medal of Honor as the "Congressional Medal of Honor." This is a common misconception because the MOH is presented by the President "in the name of the United States Congress," but it is one a career Marine should not make, since it is a purely a military, not a congressional, award.
Secondly, McCarthy calls Vietnam civilians "the Indigenous population." The use of that expression slightly diminishes those people because it omits their nationality. McCarthy clearly did not intend any disrespect and he indicates that his guilt for killing enemy troops persists to this day.
How can a decent man and a good Catholic who became a godfather to one of his sergeants at the latter's conversion to Catholicism in Vietnam kill another human being (even in war) and not be affected?  The answer is, he cannot, even after being subject to dehumanizing treatment at Parris Island.         
–Harvey Weiner