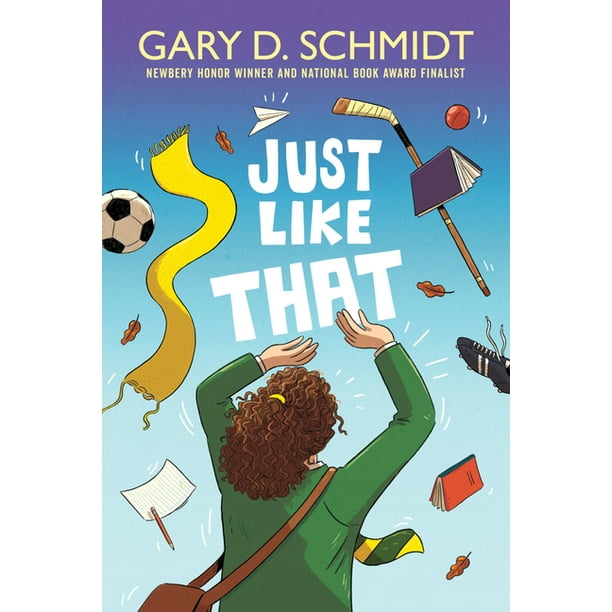 Gary D. Schmidt has written more than twenty books for young people and has won many awards, including a Newberry Honor Awards. His latest book, Just Like That (Clarion Books, 400 pp. $16.99, hardcover; $9.99, Kindle), will join his pantheon of noteworthy books written for young people, aged ten and up. The story will grab any middle school student's attention (and any adult's, for that matter) from the first paragraph.
I say this as a former middle school teacher and coach and a former Marine CH-46D helicopter crew chief. The story begins in the summer of 1968 with one of the protagonists watching an evening news report from Vietnam and witnessing the crash of a Ch-46A helicopter full of Marines. What a great way to start a conversation about the war in Vietnam and its effects on young people back home. Schmidt uses this literary device to introduce us to Meryl Lee Kowalski and the intense emotions she faces after the death of her best friend, Hodding Hoodhood (Schmidt's protagonist in his book, The Wednesday Wars), in a bizarre car accident.
Loss and how we deal with it are woven masterfully into this story. Meryl Lee, like any adolescent, cannot seem to wrap her head around this senseless loss as she grieves. The loss leaves an emptiness inside her, an emptiness she refers to as her blank—always close by and always ready to consume her.
Meryl Lee's parents decide that she needs a change of scenery and enroll her in a boarding school in Maine. If you Google "how stress affects adolescents," you will find that the top three factors are losing a loved one, going through your parents' divorce, and moving to a different school.
We are soon introduced to a second protagonist, Matt Coffin, a streetwise boy of middle school age who lives on his own in an old fishing shack on the Maine coast . As I read Just Like That, I kept seeing the young people I taught and coached in mddle school a hundred years ago. They somehow morphed into the young men I served with and flew with over the unfriendly skies of South Vietnam. Reading Schmidt's novel brought a smile to my lips and the occasional tear to my eye.
The dexterous manner in which Schmidt draws all of his characters and the intense situations he creates for the main ones are part of his superlative ability to tell a story and draw the reader into it. He creates well-developed characters and that will always keep you reading.
This is a story that understands the human nature in all of us. It's the intrinsic trust in the goodness of humanity that Schmidt exudes that makes you turn page after page in awesome wonder. Just Like That is an engaging story that will encourage students to turn to more classical literature such as The Grapes of Wrath and want to learn about important figures in history like Mary Queen of Scots and Spiro Agnew, known to the girls at St Elene's as "Zipper" Agnew.
One warning: Just Like That is not a good book to pick up at bedtime because it will keep you reading all night long.
–Charles Templeton
The reviewer is the author of Boot: A Sorta Novel of Vietnam. His website is https://www.charlestempleton.com