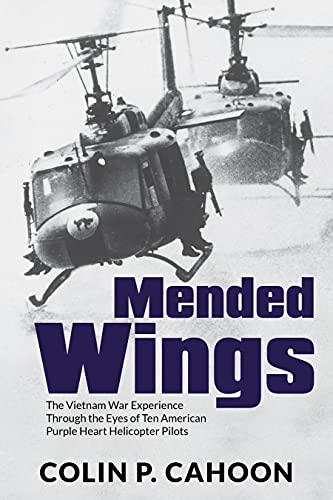 Colin Cahoon's Mended Wings: The Vietnam War Experience through the Eyes of Ten American Purple Heart Helicopter Pilots (Valor Press, 249 pp. $17.95, paper; $9.99, Kindle) is a compilation of ten stories Cahoon put together honoring men who were wounded in acting flying rotary-winged aircraft in the Vietnam War. Cahoon, who served as an Army helicopter pilot in the mid-1980s, also is the author of two novels, The Man with the Black Box and Charlie Calling.
Mended Wings is based on many interviews Cahoon conducted and a good deal of research he did into the part helicopters played in the Vietnam War. Each chapter contains a concise account of the often chaotic and bone-chilling events that resulted in a pilot getting wounded. Cahoon also skillfully includes the details of the pilots' early years, military careers, and post-war lives.
Cahoon's first-hand knowledge of helicopters helps him describe many aspects of the capabilities, strategies, and tactics of helicopters in the Vietnam War. He also goes over each mission's objectives, risks, planned and unplanned events, and end results, along with the pilots' reasoning and state of mind.
As I began reading a chapter, I was invariably drawn to the photos at the end. I had to see the faces of of the pilots as I read their stories. That way I could practically see, hear, and sometimes feel the chaos inside the helicopters when they were hit, sometimes from close range. In several cases, the pilots volunteered to extend their tours or to serve second tours of duty in the dangerous skies of South Vietnam. There must be hundreds of similar stories and I would love to see Cahoon do another book with more of them.
Reading this book, I felt each chapter was almost a book in itself. I always believed Vietnam War helicopter pilots to be warriors. This book leaves no doubt in my mind that they were some of the bravest, most dependable, and most valuable assets of that war. 
I highly recommend Mended Wings.
The author's website is colinpcahoon.com
–Bob Wartman