Warfare engraves unforgettable memories in the minds of its participants, a fact convincingly confirmed by the Vietnam War veterans whose stories are told in Echoes of Our War: Vietnam Veterans Reflect 50 Years Later (BookCrafters, 286 pp. $29.95, paper), which was put together by Retired Marine Col. Robert L. Fischer. Some memories are as vivid as the events were a half century ago.
In reacting to witnessing a wartime atrocity committed against Vietnamese civilians in 1968, for example, former Navy Corpsman Dennis E. Sedlack says: "I experience gut-wrenching terror. I am so angry, and I have horrific rage at God, my government, and life in general. My feeling is I want to kill everyone in sight. The desire to kill all or to flee has never gone away. To this day, when life closes in and gets too heavy, that same urge still shows up."
Sedlack provides a dynamic study in sheer terror and exposure to carnage. He records what he saw and did in Vietnam with astounding honesty, particularly the fear and anger. His battlefield stories and thoughts rank among the most revelatory I have read in reviewing more than 300 books about the Vietnam War. He sets the standard for the recollections of nine Marines—eight one-time grunts and one F-4 Phantom jock—in Echoes of Our War.
Paralleling Sedlack, the other veterans offer life-altering accounts of their war experiences. PFC Bill Purcell describes 13 days of "seemingly hopeless" combat in Hue City during the Tet Offensive before wounds took him out of action. His description of building-to-building fighting is a masterpiece of observation and recall.
Reporting battles on the eastern edge of Hue, Corp. Grady Birdsong complements Purcell. Birdsong served an extended 20-month tour starting in February 1968. He is the foremost contributor to the book. Along with his experiences, he provides a footnoted analysis of the entire war, including a short history of how the U.S. became involved going back to 1880.
Recollecting his 26 days in Hue, Corp. Gary Eichler gives a different view of door-to-door and room-to-room fighting. He finished his year by patrolling the area near Khe Sanh. His writing reflects a mood of "What the fuck am I doing here?"
Sgt. Tom Jacobs, also in-country for Tet '68, recreates just about the ugliest ambush that a company has ever experienced. He survived untouched, but four months later a mortar round explosion took him out of the war with a 100 percent disability wound.
Lt. Bob Averill and MSgt. John Decker also add their version of the war's history to their personal accounts. Averill succeeded as a company commander by relentlessly using massive firepower. He then led a Combined Action Company and developed an overwhelming sense of responsibility toward the Vietnamese that continues to this day. Decker served two tours separated by seven months spent recuperating from the effects of wounds. He chops through fields of government, media, and military mistakes as if harvesting history. His thinking is original and his writing style flows with an entertaining voice.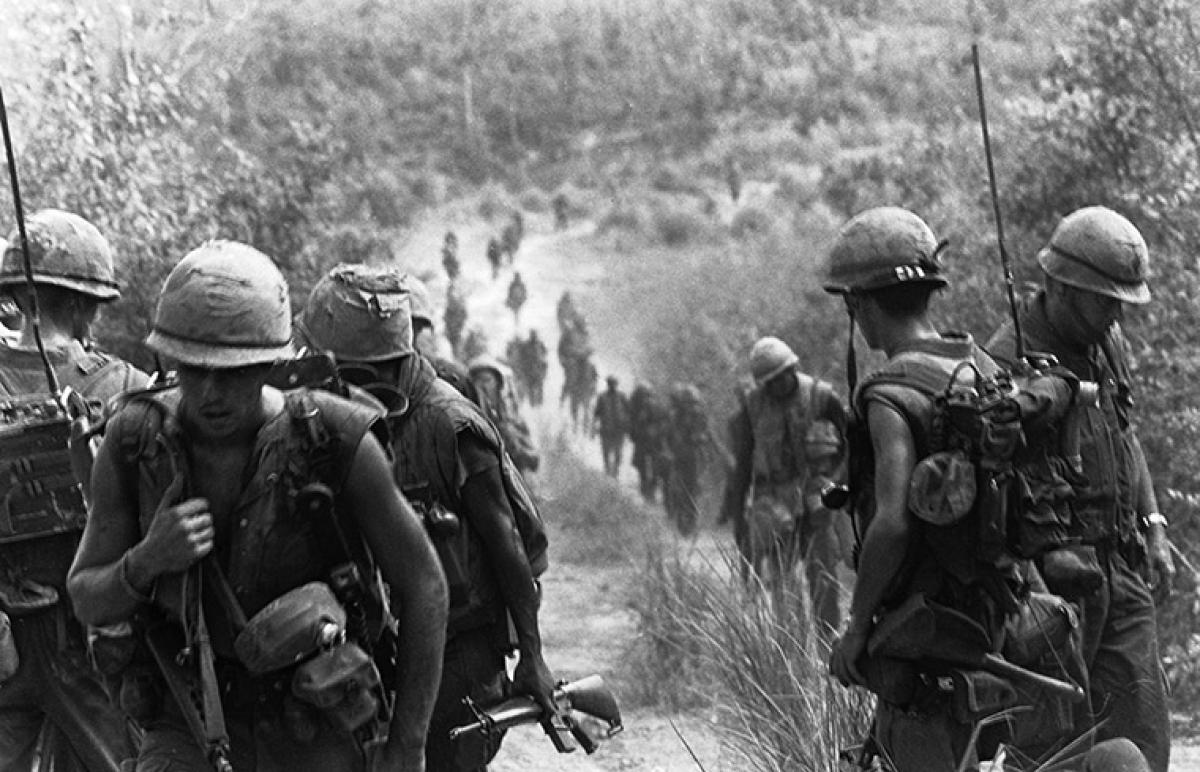 Capt. Dan Guenther, Lt. C.R. Cusack, and Lance Cpl. Mike Frazier write the book's shortest chapters with differing perspectives of the war. Guenther discusses the logistics of his 19 months in Amphibious Tractor operations. Cusack tells a couple of flying stories focused on other people. Frazier walked point on at least forty patrols before a wound ended his tour. He sticks to facts and tells it like it was.
Dedication to the U.S. Marine Corps is a dominant theme of the book. Men who fought at Hue express fault the U.S. Army's lack of cooperation in procuring food, water, and ammo and its undisciplined approach to combat. Most of the veterans sling accusations of incompetent decision making at American presidents. They label politicians as "consummate cowards" and inefficient administrators as "pogues." One says Gen. William Westmoreland was "a pompous showboat and fool."
The book is the brainchild of Bob Fischer. The ten writers were selected from more than 160 Denver-area veterans from all wars, members of "Cooper's Troopers," a group founded by Fischer, "China Marine" Ed Cooper, and Iwo Jima veteran Al Jennings that meets monthly. Co-editors Guenther, Birdsong, and Mark Hardcastle finalized the manuscript.
Fischer and his crew gave the writers a list of questions dealing with combat assignments, their thoughts on past controversies, the value and morality of the war, examples of its impact on an individual, racial problems, regrets, and lingering personal issues such as PTSD.
Photographs, maps, and a large glossary round out this informative collection of timeless memories.
—Henry Zeybel