"Diplomacy," said the writer and Civil War veteran Ambrose Bierce, "is the patriotic art of lying for one's country."
In Rogue Diplomats: The Proud Tradition of Disobedience in American Foreign Policy (Cambridge University Press, 406 pp. $34.99, hardcover; $17.20, Kindle) Seth Jacobs examines the role and conduct of diplomats in the shaping U.S. foreign policy. American diplomacy—often overlooked by historians and political scientists who concentrate on executive power and the military—has had a profound impact on the many achievements that have helped establish contemporary America.
Seth Jacobs is Professor of History at Boston College. His books include Ngo Dinh Diem and the Origins of America's War in Vietnam and America's Miracle Man in Vietnam: Ngo Dinh Diem, Religion, Race and U.S. Intervention in Southeast Asia.
Jacobs' opening thesis statement is striking; he contends that the most important triumphs in American history came a result of American diplomats disobeying orders. Using a case-study approach, Jacobs uses six examples:
John Adams, John Jay, and Benjamin Franklin negotiating the Paris Peace Treaty that ended the Revolutionary War
Robert Livingstone and James Monroe bargaining for the Louisiana Purchase
Nicholas Trist ending the 1946-48 war with Mexico
Walter Hines Page as Ambassador to England during the World War I
Joseph P. Kennedy in the same post in period immediately preceding the Second World War
Henry Cabot Lodge, Jr. as Ambassador to South Vietnam in 1963.
In all five of the six cases, Jacobs argues, insubordination was ultimately the correct course of action.
Of particular interest is the case study on Henry Cabot Lodge, Jr. The patrician Republican Lodge was a curious choice for the Democratic President, John F. Kennedy, as the new U.S. Ambassador to South Vietnam in 1963. Aside from their party differences, Kennedy had defeated Lodge for a seat in the U.S. Senate in 1952, and again when Lodge was Richard Nixon's running mate in 1960.
When Lodge arrived in Saigon in August 1963, the embers of the Diem Administration's raids on Buddhist pagodas in South Vietnam were still smoldering. A lone wolf who kept his own counsel, Lodge soon dominated the diplomatic scene in South Vietnam and forged his own policy in the wake of vacillation from Washington.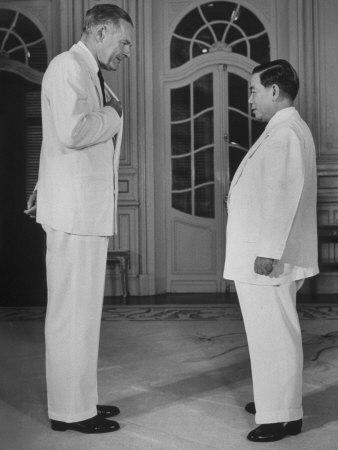 In Saigon, the South Vietnamese populace had tired of Ngo Dinh Diem's autocratic rule, and there were as many as twelve coup d'état plots against his government. Lodge delicately walked the tightrope of not thwarting any of the coups while maintaining plausible deniability of American involvement.
Jacobs overstates the case of Lodge's perfidy, but there is no doubt that he, as much as any American, helped cause the overthrow of the Diem government.
Lodge's rogue quality rested more on his unmanageability than dishonesty. Despite Jacobs' characterization of Lodge's tenure as U.S. Ambassador as one rife with disobedience and insubordination, he credits Lodge with ultimately making the right choice in helping oust the Diem government.
Jacobs' book is an original piece of scholarship that is written in a manner that makes it entertaining, informative, and relevant. It is a rare book of American foreign policy that is accessible to both the casual reader and the academic.
The diplomats he writes about were both a reflection and a refraction of the culture of their times, rendering a distinctly American approach to foreign policy. In the end, Jacobs proves his provocative thesis that America was made by knaves and scoundrels who went their own way.
–Daniel R. Hart