The Eagle On My Arm: How the Wilderness and Birds of Prey Saved a Veteran's Life (University Press of Kentucky, 218 pp. $26.95, hardcover and e book) by Dava Guerin and the late Terry Bivens is the story of the life of Patrick Bradley. And what a story it is.
Bradley, who is in his early 70s, is one of the founders of the Avian Veteran Alliance, a program that uses birds of prey as a form of therapy for military veterans and others coping with chronic physical and emotional trauma. This type of animal-assisted therapy often uses large birds that have been seriously injured, making them wounded warriors as well.
Bradley served in the Vietnam War as a Green Beret in a team whose main job was to infiltrate enemy lines for information-gathering purposes. The authors describe how his team experienced high casualty rates on its dangerous forays into North Vietnam. "Out of his original team of sixteen, only three would survive, and two of them would commit suicide within a few years."
Bradley returned from Vietnam as an explosively angry young man. Several incidents nearly landed him in the stockade at Fort Leavenworth. His first post-military job involved counting bald eagles in the Canadian wilderness. For three years he worked alone, using his Army survival training and experience in Vietnam as he lived off the land. Only a few weeks after he started observing the eagles Patrick Bradley found his anger issues had dissipated.
He moved on, and spent a few years working odd jobs at wildlife centers and preserves, where he found himself drawn to hawks. Bradley noted that working with a wounded bird seemed to calm both him and the animal. His personal life didn't improve, though, as he continued to experience occasional violent, PTSD-fueled outbursts. Each failed relationship would cause him to get closer to his birds as he tried to fight the demons he continued to face.
As Bradley eventually felt a sense of healing from his relationships with several large birds, he began working with a VA hospital and became one of the founders of the Avian Veteran Alliance in Florida. That program has helped helping thousands of veterans with PTSD and others who have been through major illnesses.
The authors wrap up their book with the following words: "To live one's life on one's own terms, to touch others through passion and perseverance, to be fearless of rejection and hopeful that our better angels will prevail: that is the story of Patrick Bradley's life."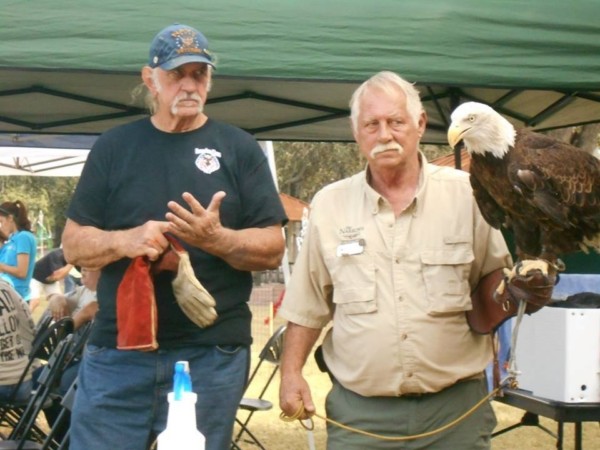 It was great to read a story about a man who was filled with anger and fear upon his return from the war in Vietnam, but learned to harness his emotions and go on to help thousands come to terms with the darkest times in their lives.
The book's Facebook page is https://www.facebook.com/pg/guerinpr/posts/
–Bill McCloud