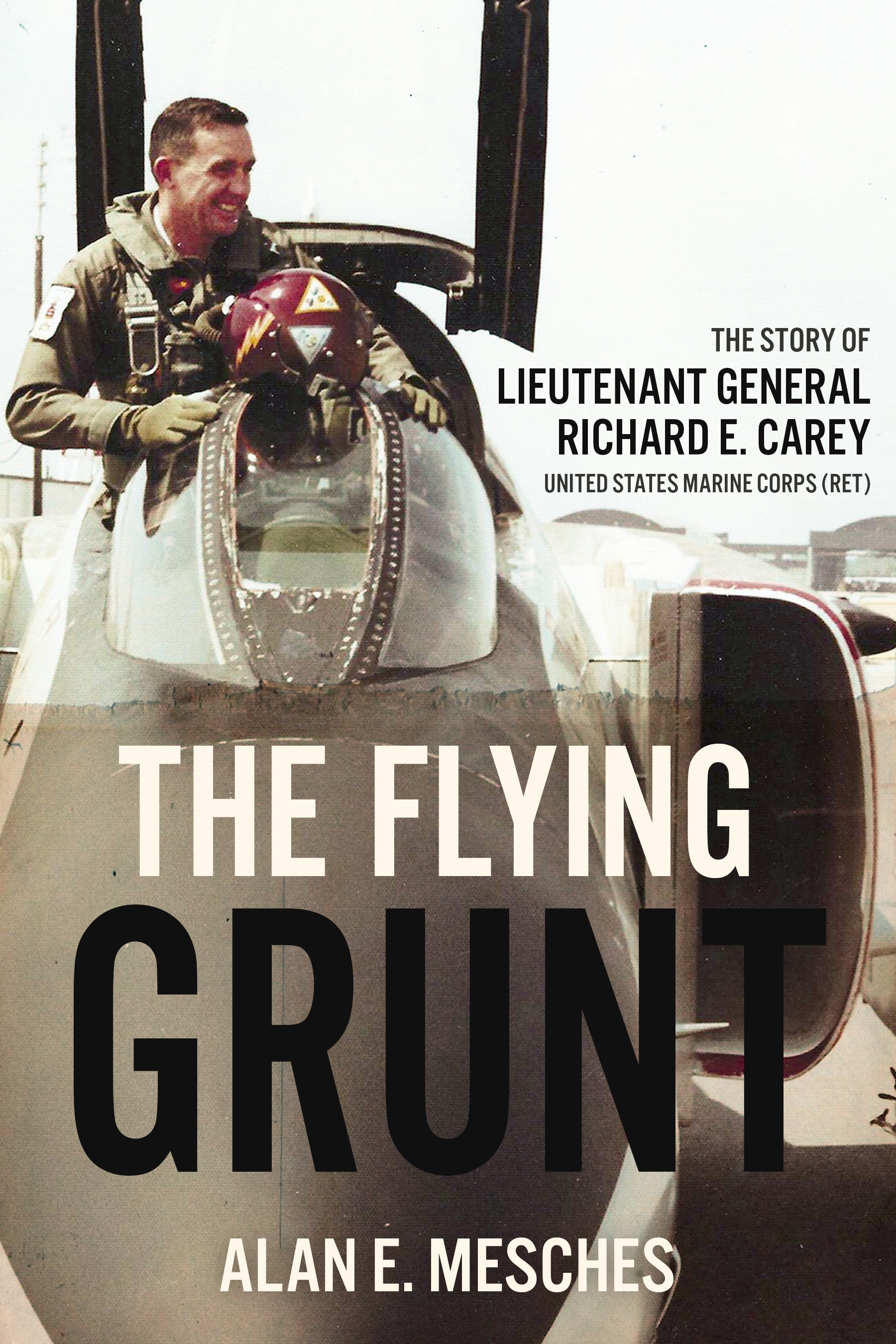 Landing at Inchon, advancing to Seoul, fighting at the Chosin Reservoir, slogging through 189 days of combat, making seven narrow escapes from death, frostbite and wounds; providing leadership during the siege of Khe Sanh in Vietnam, flying 204 F-4 and C-117 interdiction and close air support missions, and receiving a Distinguished Flying Cross and 16 Air Medals. Those are the highlights of the 38-year military career of Richard Carey as recounted in Alan Mesches' new biography, The Flying Grunt: The Story of Lieutenant General Richard E. Carey, United States Marine Corps (Casemate, 240 pp. $37.95, hardcover; $15.99, Kindle).
In 1945 at the age of 17 Carey enlisted in the Marine Corps. Four years later his leadership skills earned him a direct commission to second lieutenant and the command of a platoon.
In more than 100 hours of interviews Carey guided historian Alan E. Mesches through his life and military career. In telling Carey's life story, Mesches, an Air Force veteran, includes summations of world events occurring at the same time.
Carey's war actions well beyond normal. At one point in Korea, for example, he tackled Gen. Douglas MacArthur to save him from a line of fire. Their subsequent exchanges became historic. Carey also recalls people such as Marine Corps legend Chesty Puller with whom he interacted.
Carey's recollections of battling Chinese communist forces at Hagaru-ri, abutting the Chosin Reservoir, are especially dynamic. Half of his platoon died during that vicious fight in November and December of 1950. "A lot bled to death," Carey says. Since then, he has championed the Marines who fought in that battle, known as The Chosin Few.
Shortly after Choisin Reservoir, a mortar round wounded Carey and he returned stateside for treatment. Following rehabilitation, he received the assignment he had wanted since he was 17: flight school. He then began flight training and won his pilot wings.
Carey went to Vietnam three times. In 1963, he spent two weeks there gathering intelligence as a major advisor. In 1967-68, he had charge of base support activities at Chu Lai and Da Nang as a lieutenant colonel and volunteered to fly combat missions.
In 1975, as a brigadier general, he coordinated evacuation plans in Cambodia and South Vietnam as the North Vietnamese Army overran the South. That task included political and personality conflicts and diplomacy.
The chapters dealing with the evacuation of Saigon are especially enlightening. Carey and Mesches offer arguments for readers to reach personal conclusions about the rights and wrongs of the withdrawal procedures.
In combat and administrative roles Carey vigorously pursued and solved large and small problems. He demonstrated a wide-angle view of leadership techniques while scaling the levels of command from platoon leader to Commanding General of the Marine Corps Development and Education Command before retiring at age 55 in 1983. 
In civilian, among other things, he worked with the Metroplex Marine Coordinating Council in the Dallas-Fort Worth area helping veterans and their families. His efforts helped build a Dallas-Fort Worth veterans cemetery, provide housing for homeless veterans and accommodations for families of hospitalized veterans, and instituted a VA shuttle service.
Most importantly, Carey–who is 95–worked to fund and erect an eight-panel monument in the Dallas-Fort Worth National Cemetery with seven panels containing battle scenes in tribute to The Chosin Few.
—Henry Zeybel