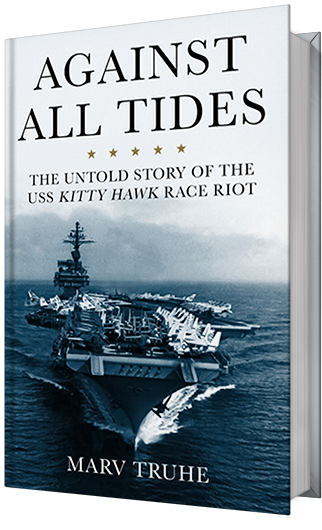 A riot broke out in the early-morning hours of October 13, 1972, aboard the USS Kitty Hawk, an aircraft carrier on combat patrol in the Gulf of Tonkin during the Vietnam War. Fighting fomented by racial tensions between white and Black sailors turned a section of the vessel into a battleground. Dozens of men were injured; three men had to be medevaced to on-shore medical facilities. The confrontations did not affect combat operations.
Capt. Marland Townsend had set the stage for the conflict that he classified as a "riot." During his first five months as the ship's new captain, Townsend had harshly punished Black sailors for behavior that he tolerated from whites.
Townsend's zeal punishing Black sailors eventually infected multiple levels of command as the opinions of those who sided with Blacks were superseded or ignored. The Navy's goal soon evolved into ending the entire matter hastily without further publicity. Navy leaders and government decision makers seemed to forget the tenet that everyone merits equal and fair treatment.    
Following the riot, Townsend attempted to try 24 Black sailors by captain's mast, the Navy equivalent of an Article 15 in which he alone would determine their guilt and punishment. Only three men opted for a mast; two ended up in the ship's brig for two months. The rest, who chose to be judged by court-martial, were forced to await their judgment in the Subic Bay Naval Base brig, occasionally in solitary confinement. No whites faced charges.
Lt. Marv Truhe, a former Navy Judge Advocate General's Corps lawyer at the time, has come up with a thorough account of the riot in Against All Tides: The Untold Story of the USS Kitty Hawk Race Riot  (Lawrence Hill, 320 pp. $28.99, hardcover; $11.49, Kindle). Truhe helped defend six Black Kitty Hawk sailors charged with rioting and assaulting white sailors.
Truhe analyzes Townsend's actions, as well as the entire Navy command structure's, at great length. He sets out each Black sailors' situation in the riot, a factor disregarded by Townsend and others who treated them as a tightly unified group with no individual identity. If I listed all of the unfair procedures against the Blacks and their lawyers from start to finish of the case, this review would be ten-pages long.  
Working alongside other military, civilian, and NAACP defense lawyers, Truhe helped challenge the Navy for its one-sided investigation that charged only Black sailors and for the pretrial confinement of the accused in prison cells for months, an unprecedented action in the history of the modern Navy. He also writes about his own removal and possible court- martial as a defense counsel; the improper withholding of evidence by the government; and the dishonorable discharge of a Black sailor based on perjured testimony.
The book's abundance of facts speaks for itself. Truhe fortifies his account by referencing his original case file, which includes interview notes with clients, witnesses, defendants, and fellow lawyers; dozens of tape recordings; official Kitty Hawk documents; and trial and hearing transcripts. "No publications or other accounts have captured the complete story," he writes, "and too many have gotten it completely wrong."
After showing how government-supported racism grew, Truhe concedes that the outcome of the trials ultimately proved a vindication of sorts considering there were acquittals, dropped charges, and relatively lenient sentences. Plus, all of the defendants left the Navy with honorable discharges.
The most enlightening parts of Against All Tides are outtakes from legal arguments and courtroom cross examinations. They provide a touch of David versus Goliath, with low-ranking defense lawyers challenging high-ranking judges and admirals. The young lieutenants built great cases, but the big men often had the final word.
The Kitty Hawk conflict balanced out when, following the trials, Chief of Naval Operations Adm. Elmo Zumwalt invited Navy officers "who do not view improved race relations as their critical duty right now to retire from the service."
The book's best message: "Those who are oblivious to their own prejudices are guilty of one of the more insidious forms of racism."
Anyone interested in further pursuing this topic should look into, Gregory A. Freeman's Troubled Water: Race, Mutiny, and Bravery on the USS Kitty Hawk (2010), a full-length book, and Laurel Habrock's a 98-page paperback, Troubled Water: Race, Munity, and Bravery on the USS Kitty Hawk, published in 2021.
The author's website is marvtruhe.com
—Henry Zeybel