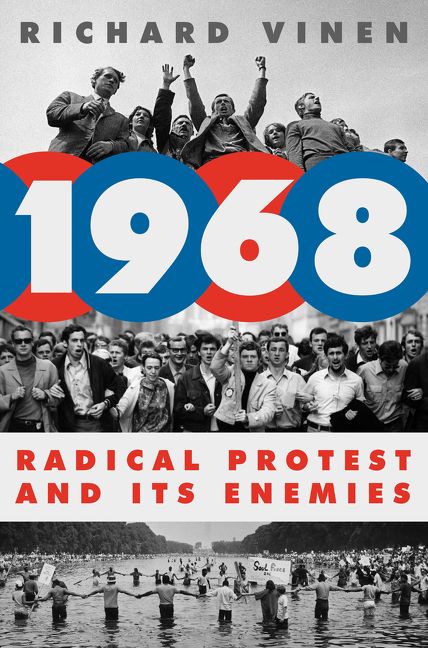 "The single most important cause of change in the tone of politics in the 1960s was the Vietnam War," Richard Vinen writes in 1968: Radical Protest and Its Enemies (HarperCollins, 464 pp., $29.95). The war, he writes, "seemed to focus and incarnate all the other conflicts—about race, imperialism, militarism and capitalism."
The book came out in July, a half-century after the cataclysmic year that saw the Tet Offensive, the assassinations of Martin Luther King and Robert Kennedy, and the election of Richard Nixon.
Vinen examines the twelve months of 1968 primarily in the context of the years just before and after, what he calls "the long '68," and he focuses on the West. "My version of '68," he writes, "involves affluent countries in which radical protest came up against elected governments."
A professor at King's College London and a recipient of Britain's Wolfson History Prize, the author distills an extraordinary amount of information into about 340 pages of jargon-free text. He takes a thematic, rather than a linear, approach. So while the book can profitably be read straight through, it may be more valuable as a reference work.
Beyond the United States, Vinen concentrates on three countries: France, West German, and Britain. France experienced  intense activity—worker strikes and student demonstrations—in May 1968 in Paris. In West Germany, the "number of the most committed radicals was relatively small," he writes, and "terrorism took its most extreme form." In Britain, 1970s radicalization "extended beyond the campus [to] political violence in Northern Ireland."
Vinen examines phenomena that, in addition to the Vietnam War, influenced "the long '68," such as economic growth, the increase in the number of college and university students, and the Civil Rights movement. Throughout, he substitutes complexities for clichéd dichotomies—young/old, new/traditional, outsiders/authority—and shares many intriguing details, among them:
"The largest live audience that John F. Kennedy ever addressed was not in Washington or Berlin but in Berkeley, California, and Berkeley illustrated the hopes that many placed in America during the early 1960s."
"Many who had been radicalized in the late 1960s or '70s turned to writing works that were inspired by American crime fiction. Most famously, Stieg Larsson, the Swedish creator of the Millennium series, had been a very young '68er, campaigning against the Vietnam War when he was 14 and joining a Trotskyist movement six years later."
"Some American women who opposed the war made much of their status as mothers. Not all feminists felt comfortable with this. Betty Friedan said: 'I don't think the fact that milk once flowed in my breasts is the reason I am against the war.' A group of anti-war feminists staged a ceremony to bury 'traditional motherhood' at Arlington National Cemetery."
–Angus Paul