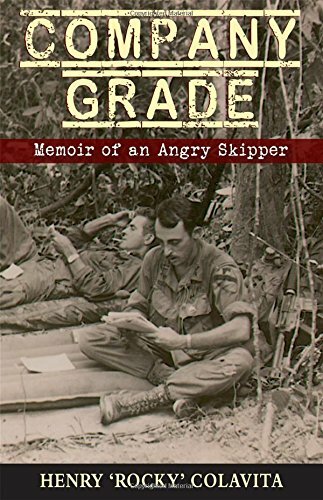 The back-cover blurb on Henry "Rocky" Colavita's Company Grade: Memoir of an Angry Skipper (Hellgate, 276 pp. $19.95, paper; $9.99, Kindle) tells us to expect an "engaging, often funny memoir." And that's what Colavita came up with in this well-written book, beginning with his earliest memories of wanting to join the Army and to be a police officer.
His father's Army career as a transportation officer took the Colavita family to many duty stations and assignments. As a student at Virginia Tech, Rocky Colavita joined Army ROTC, and received his commission as a 2nd lieutenant when he graduated.
The book includes lots of reminiscing about college life and early ROTC training. Colavita went through Infantry AIT, Ranger and Airborne Training, and Vietnamese Language School.
During his first tour in Vietnam he was assigned to an Airborne Advisory Team with MAAG, the predecessor of MACV. While working with a Vietnamese Airborne unit, Colavita was wounded and medevaced stateside for treatment and recuperation.
After recovering from his wounds he did a stint at the Army War College, then went back to Vietnam for a second tour, commanding Delta Co, 2nd/8th in the 1st Cavalry Division. Colavita's call sign was Angry Skipper-6. He provides lots of good war stories about his second Vietnam War tour. After that, he finished a 20-year career as an Army officer.
Colavita joined the Fairfax County (Virginia) Sheriff's Office after he retired, rose to the rank of Major, and retired a second time. Colavita devotes only five pages to his law enforcement career. After enjoying what came before, I expected more great stories and anecdotes.
–Tom Werzyn