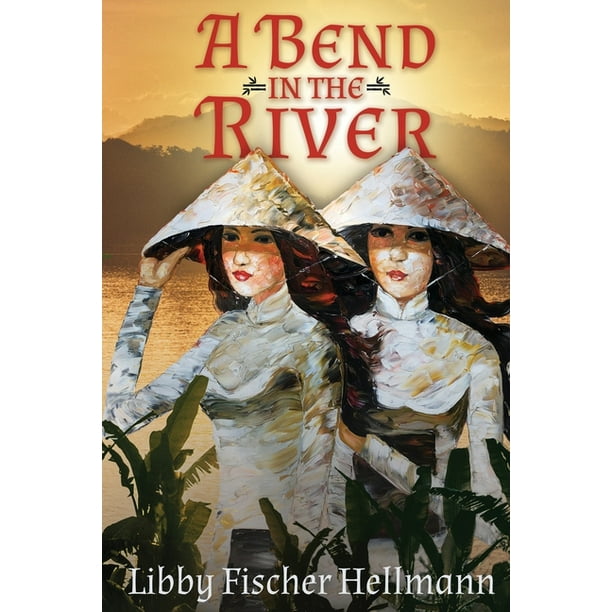 A Bend in the River (The Red Herrings Press, 406 pp. $17.99, paper; $6.99, e book) is a meaty, satisfying historical novel set during the Vietnam War by crime fiction writer Libby Fischer Hellmann.
The plot hinges on the aftermath of an incident in Vietnam in the spring of 1968. Two teenaged Vietnamese sisters helplessly see their family killed by American troops who then massacre the rest of the people in the village. The girls flee to Saigon, joining streams of refugees following the Tet Offensive heading to South Vietnam's capital.
While living in a refugee camp they find jobs at a restaurant. The younger sister, Mai, finds work as a hostess in a Saigon lounge that caters to Americans. Tam goes off to join the female fighting forces of the Viet Cong known as the Long Hairs. Mai, fourteen, wears makeup to appear to be seventeen, having been told that is the "perfect" age for the business. She works at the Stardust Lounge, named after the Las Vegas hotel. It's one of the few air-conditioned bars in the city.
Tam goes through a two-week training camp, then is encouraged to use her sister to collect information from loose-lipped Americans. But she refuses to involve the younger girl in that dangerous activity. After Tam kills a man in battle, she realizes she "could no longer accept that she was more principled than the enemy."
We learn through Mai that many Vietnamese people in Saigon fearfully followed the first manned landing on the Moon, concerned that the gods were being tempted and might decide to punish people on Earth. Her VC sister, virtually unaware of such things, is busy recovering unexploded bombs, driving a supply truck, and exploring the tunnels of Cu Chi.
Whenever Tam is asked what village she's from, she refuses to name it, simply saying it's "not there anymore. The Americans destroyed it."
As the war begins winding down the sisters are affected in serious but different ways. Though they are estranged we feel as though destiny may bring them back together. The story goes back and forth, a few chapters at a time, telling each girl's story. It's an efficient way of keeping the reader's interest.
Hellmann says she was driven to write this book because "Americans still see the war through a strictly American lens." In an effort to learn more about the Vietnamese during the war, she read novels such as Nguyen Phan Que Mai's The Mountains Sing, Viet Thanh Nguyen's The Sympathizer, and Ocean Vuong's On Earth We're Briefly Gorgeous.
The results of that research are obvious in the book, but this story, and the telling of it, are strictly Hellmann's own. Part popular fiction and part literary fiction, this deftly written book is well worth reading.
The author's website is libbyhellmann.com
–Bill McCloud