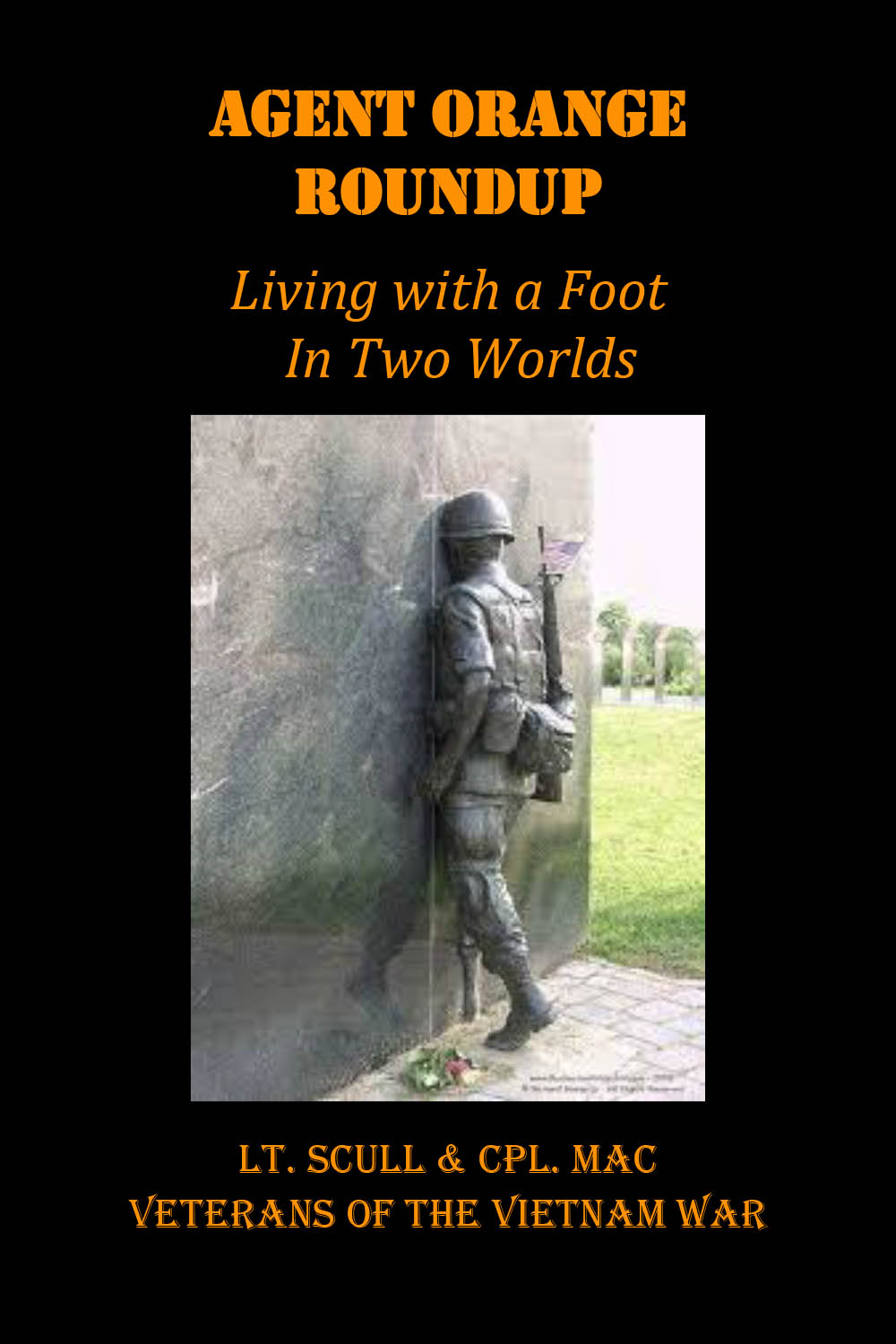 Agent Orange Roundup: Living with a Foot in Two Worlds (Bookstand Publishing, 210 pp. $24.95, hardcover; $15.95, paper; $4.99, Kindle), by Sandy Scull and Brent MacKinnon, is a unique, poetic condemnation of the massive use of defoliants and herbicides by the United States during the war in Vietnam. It is also an educational resource to help people learn more about the development, use, and devastating effects of Agent Orange. Along with poetry, the book contains artwork, stories, and essays.
Scull and MacKinnon served with the Marines during the war; they first met in 1988. They both have received Stage 4 cancer diagnoses that they believe are associated with being exposed to Agent Orange in Vietnam.
The first part of the book consists of poems by Scull, including this couplet:
"We return to you with a souvenir
Of present and future Death"
He goes on to describes AO as "the round we didn't hear, and it is killing us."
He says that today, "I like my steak tartar/shrapnel-cut and raw –" and refers to war as a "big bang without the theory."
Here's more:
"When memory of war joins a poem, it's more
than a blood trail, it has a voice and is free
to move with and punctuate its own rhythm.
Those imprinted lines of sacrifice now curve."
Scull writes that he arrived in Vietnam with a "dread of what would come." Here's what he says about the American military's policy of war by body count:
"This number game had faces.
My face. And mothers. My mother."
At one point, he's running to catch a plane leaving Khe Sanh, "wondering how many/rotting Marines want into my jungle boots leaving." He also questions "How much blood can this soil absorb?"
We learn from Scull that when you smash your M-16 against a tree out of grief for five men lost to rifle jams, it comes apart this way: "The plastic butt stock shattered first, then the hand guard, the trigger and rear sight."
MacKinnon begins his part of the book by declaring: "These poems and prose are by two combat Marines sentenced to slow death by the country who sent us in harm's way."
One of his poems mentions those who are "soon to die," "already dead," and "almost dead."
He cries out to the U.S. government: "I don't want money. Just say you did It/Say you killed me with Agent Orange/say you did it."
Scull and MacKinnon (Lt. Scull and Cpl. Mac) bring the reader right into the poem-writing process with a line like, "You say, cut this last stanza –" and a title such as, "These Are Not Your Poems!"
There are poems here that deal with receiving cancer treatments and living with cancer. Scull sums things up beautifully when he says: "Though the subject matter of these poems may seem like a downer, my hope is that the human spirit of love and connection bleeds through."
Overall, this is a strong collection of material written by two war veterans who have made a pact with their readers that they are going to go out fighting.
–Bill McCloud