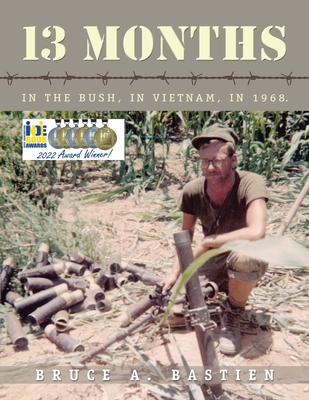 "It doesn't take long to 'saddle up,'" Bruce Bastien writes in his memoir, 13 Months: In the Bush, In Vietnam, In 1968 (iUniverse, 121 pp. $43.98, hardcover; $32.63, paper: 99 cents, Kindle), "when you've been sleeping on the ground in your clothes, wearing your boots, and all your gear has been packed tight waiting right next to you. So we got up and strapped on the backpacks, weapons and ammo, and everything else we owned. Off we went down the road."
With a style that ranges from sobering to haunting, Bastien recounts his 1968-69 tour as a Marine mortarman with Kilo Company of the Third Battalion, Fifth Marine Regiment in Quảng Nam Province, just southwest of Danang. He was one of countless Marines fighting during mini-Tet against the North Vietnamese Army and the Viet Cong in the months following the January-February 1968 Tet Offensive.
Bastien describes compelling, sometimes poetic, scenes of men in action and at rest. He illustrates each with modest detail and invites the reader to visualize the rest. Especially striking is his recollection of the effects of going without water in a combat environment in 100-degree heat. He writes of exhaustion, misery and fear, as well as hallucinations. During one, he watched as—unable to endure the weight of his backpack anymore—his arms fell off.
Through the spring and summer of 1968, Bastien's unit fought its way across Go Noi, an island in the Thu Bồn River. Heavily fortified by the NVA, rife with enemy bunkers and tunnels, Go Noi was the scene of three U.S. military operations.
Reflecting on the first, Operation Allen Brook, Bastein conveys the bleak challenges faced by every man there:
"From then on, we swept, searched, and destroyed. We looked to contact the enemy, and when it was made, we engaged, fought, and called in artillery or air strikes until they were killed or retreated—and then we pressed on and did it all over again. We covered the same territory again and again. This might go on for weeks. We did not know. In fact, we didn't know what later that day would bring, let alone how long this would last."
With no way of knowing, Bastien and his buddies did what men in war have done forever: They watched out for each other and they endured. Many of his buddies' stories are shared here, which is to Bastien's credit. His book is proof of his commitment to preserve his recollections and those of his fellow Marines after the website they had made for their unit came to an end. 
The many stories Bastien gives us and actual book itself deserve praise. Larger in size than most books, the text is well laid out, with good spacing between letters and lines. There are also many photos. The images are large, in color, and starkly show how young these men were. The pictures also testify that, despite the brutal conditions in which the Marines lived and fought, they were still capable of good cheer—and could still feel hope.
–Mike McLaughlin