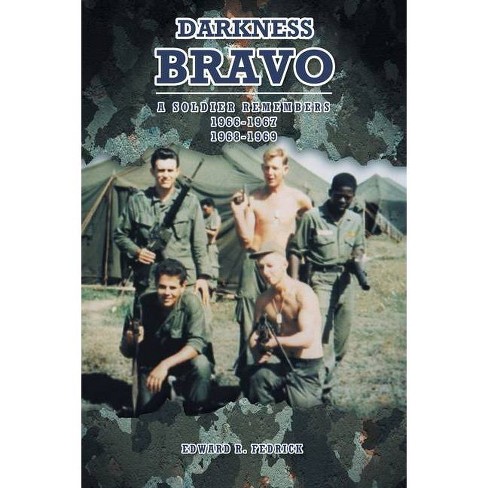 Edward Fedrick's Darkness Bravo: A Soldier Remembers 1966-1967, 1968-1969, (Covenant Books, 326 pp. $33.95, paper; $8.99, Kindle) contains 36 chapters of nearly nonstop, close-up, Army grunt action in the Vietnam War. It was a sheer pleasure to read.
Ed Fedrick joined the Army in January 1966. He took a train from Memphis to Ft. Benning for Basic and AIT. He then found himself in Vietnam, based near Quan Loi not far from the Cambodian border, assigned to Bravo Company in the 2nd/8th of the 1st Infantry Division. He received two Purple Hearts during his first tour; after volunteering for a second tour he received two more.
Fedrick fought in five big battles, but most of the book is filled with details of his everyday, small daylight patrols and night ambushes. His descriptions are filled with so many details that you feel you are there with him. At one point during his two tours of day, Fedrick's company had 54 consecutive days of enemy contact.
Throughout the book, he paints pictures filled with weapon and ammo weights, the pros and cons of different weapons, methods he and others devised to overcome the jamming problem of the M-16, physical characteristics of fellow soldiers, and tales of leadership and bravery. 
Ed Fedrick is painfully honest with his feelings about himself and his combat brothers. He speaks of himself as being mediocre and sometimes inadequate. But when you finish reading Darkness Bravo, you'll find out that he is totally adequate—and a true hero.
Going on patrols an ambushes, his quiet thoughts included things such as, "I know I'm going to die today," "I'm not going to live through this," and the same thoughts in other words. Nearly everything he says about his fellow soldiers is complimentary.
After leaving the Army, Fedrick joined the Memphis Police Department. He has retired and with his wife Louise lives in the hills of Tennessee.
Darkness Bravo opens with a good Glossary that will be helpful to the uninitiated. The last 27 pages of this excellent book are filled with beaucoup pictures of Fedrick, his fellow Big Red One soldiers, and his wife. I suggest looking through these pics before reading the book to meet many of the people Fedrick writes about.
Two minor complaints: I would like to have seen a map of his areas of operation and a Table of Contents, or at least chapter titles on the page headers.
That aside, Darkness Bravo is flawlessly presented.  Put reading this one on your bucket list.
–Bob Wartman