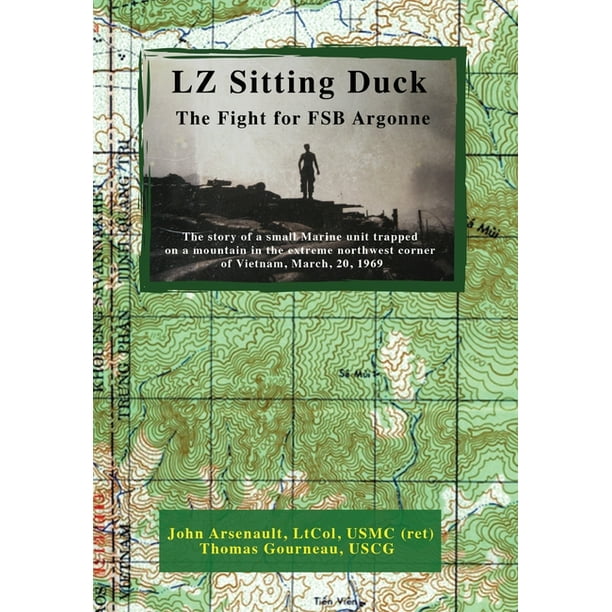 Many Vietnam War veterans well remember what it was like to be thrown into battle in a remote corner of South Vietnam, fighting for their lives in combat that ultimately would made absolutely no sense. Fire Support Base Argonne on the Laotian border just below the DMZ in Quang Tri Province was one of those places.    
In defiance of common sense, the men of the 1st Battalion, 4th Marines in the 3rd Marine Division were compelled to attack Argonne, a former U.S. fire support base. The North Vietnamese Army always prepared defenses on abandoned bases, including booby traps, in anticipation of returning American troops. What happened at FSB Argonne was no different.  
Retired U.S. Marine Corps Lt. Col. John Arsenault's LZ Sitting Duck: The Fight for FSB Argonne (Liberty Hill Press, 272 pp. ($32.49, hardcover; $17.40, paper; $8.99; Kindle) is a collection of vignettes taken from nearly two dozen Marines who went through hell just trying to survive as they fought tenaciously against a determined foe.    
From the moment the Marines assaulted the LZ they named Sitting Duck, they came under intense fire and began taking heavy casualties. That situation would not change much for the entire time they conducted operations. Snipers picked them off, mortar rounds rained down on them, and just when it seemed things couldn't get worse, an artillery round intended for the North Vietnamese fell short, leaving no one unscathed.     
The highly regarded battalion CO, seemly invincible as he stood up to lead his men, became just one more KIA. That was one of many scary moments for a lieutenant who describes watching his CO take a direct hit to the head.
The Marines performed feats of pure heroism. Again and again, as one reads their accounts at Argonne there is a real feeling of being there amid the incoming fire, the chaos, and the confusion. The Marines fought in rugged terrain with little water to combat their dehydration from the overwhelming heat, all while attacking the enemy troops ensconced in well-prepared fighting positions.
Many of the book's twenty-four vignettes describe the same battle scenes; but each one offers something new from a different Marine's perspective. Their individual accounts are almost like reading a murder mystery in which different witnesses describe a crime scene with each one seeing things differently.
Collectively, this book adds up to an astounding account of perseverance, hardship, heroism, and endurance. One can't help but coming away from reading these battle stories with admiration for the Marines who fought at Argonne.   
This is a sobering account of combat that should be read.
–John Cirafici