Very few people know the burden of being born with a famous name. Some struggle with unfair expectations. Some shun the public and seek anonymity. Of those who enter the same field as their legendary predecessors, few reach the same levels of accomplishment.
Henry Cabot Lodge, Jr. (1902-1985) was a three-term U.S. Senator, the longest-serving American Representative at the United Nations, as wall as U.S. Ambassador to South Vietnam (twice), West Germany, and the Vatican. He also advised five presidents and was continuously in public service for nearly five decades. As a young man with wealth, looks, and a Harvard degree, he made a curious choice to join the Army Reserve when the military was at its post-World War I nadir. He would serve his entire adult life in the Reserves before retiring with the rank of Major General.
Lodge, out of now-antiquated notions of probity, wrote two autobiographical sketches of his life, but no memoir. Luke A. Nichter's The Last Brahmin: Henry Cabot Lodge, Jr. and the Making of the Cold War (Yale University Press, 544 pp. $37.50, hardcover; $22.99, Kindle) is the first complete biography of this consequential American statesman. Nichter is a History professor at Texas A&M University–Central Texas and the co-editor of The Nixon Tapes, 1971-1972. In The Last Brahmin Nichter mines the wealth of secondary scholarship and Lodge's archived material, as well as those of all the presidents from Eisenhower to Ford. The exhaustive nature of his research is evidenced by the book's ninety pages of endnotes.
Lodge was the grandson—not the son—of Henry Cabot Lodge, the contemptuous Massachusetts Senator notorious for his stand preventing the United States from joining the League of Nations after World War I. The Cabots and the Lodges were the epitome of the Boston Brahmin aristocracy. Their forbearers gained wealth in shipping before turning to public service. Lodge's forefathers included a Secretary of State, a Secretary of the Navy, and six U.S. Senators.
At age 42, Henry Cabot Lodge, Jr. became the first sitting U.S. Senator since the Civil War to resign his seat and enter active military service and fight in a war. As it did for a generation of Americans, World War II changed Lodge from an isolationist (like his grandfather) to a zealous internationalist. He was re-elected to a third term in the Senate in 1946, but continuously clashed with the conservative Republican Old Guard. Determined to prevent another Republican loss in 1952, he convinced Gen. Dwight D. Eisenhower to run. Lodge spent so much time working as Ike's campaign manager that he neglected his own re-election campaign and lost his Senate seat to a young Congressman named John F. Kennedy.
After eight years at the UN, Richard Nixon tapped Lodge to be his running mate in the 1960 presidential election. They narrowly lost to the Kennedy-Johnson ticket. After the election Lodge considered himself too old to run for political office, but too young to retire. He crossed party lines and agreed to become Kennedy's Ambassador to South Vietnam in the summer of 1963. It would seem a curious move for the patrician politician—working for a man who had defeated him twice in a remote, violent land with a fledgling government.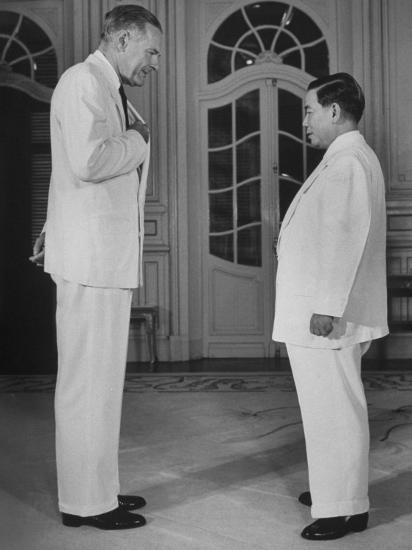 Despite an impressive career, the first three months Lodge served as Kennedy's ambassador in Saigon are the most renowned of his life and the rightful cornerstone of Nichter's work. A secretly recorded conversation implies that JFK gave Lodge approval to support a coup against South Vietnamese President Ngo Dinh Diem. Politically, Lodge was a nationalist in the best definition of the word; he valued loyalty and discretion, and did as well as he could in an extremely volatile situation. Lodge never explained his actions in Vietnam, but Nichter's work is an important contribution in understanding America's early involvement in what would become the nation's most controversial overseas war.
In his effort to include as much as detail as possible, Nichter's prose, though consistently accessible, can periodically be uneven. This is minor problem, though, given the scope of Nichter's important work.
hgjkThe Last Brahmin is an impressive and authoritative account of a leading figure of the Cold War.
–Daniel R. Hart