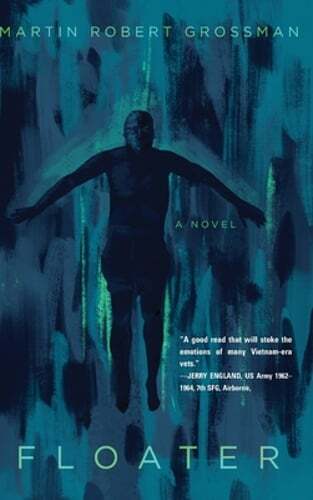 Floater (Koehler Books, 246 pp. $26.95, hardcover; $17.95, paper; $7.99, Kindle) is former Green Beret Martin Robert Grossman's third action-thriller featuring Jerry Andrews, a retired police detective who was a Special Forces sergeant in Vietnam during the war.
The idea driving this novel is conveyed in the dedication, which is to the men and women of our armed forces who fight and sometimes die to protect our freedom, "even in the face of protest." The dedication goes on to say that antiwar demonstrations by hippies and other war protesters "crushed the morale of the American soldier!" And that "the idle rich and famous played the most demoralizing role." So, in this story, which takes place 20 years after the communist takeover of South Vietnam, justice against what Grossman calls "turncoats and traitors" is "dispensed by those betrayed–REAL JUSTICE!"
Several characters feel they were betrayed while at war and again after returning home to an ungrateful nation, and they have not been able to terms with that. They "quickly found that civilian life for a Vietnam vet was a nightmare," Grossman writes. The men—Claymore, Meat Cleaver, Short Arm, Super Mex, Terminator, and others—are drawn into a plan to take out a "who's who of war protestors."
One of their main targets is the movie star Brandy Forester. She began as a child of privilege and wealth, becoming an acclaimed actress who always seemed to be in the shadow of her more famous father. She then began protesting the war and, in 1972 traveled to North Vietnam where she "sat for photographs with the enemy." She's described as having a "small chest," in contrast to Army nurses with their "big racks." The men don't want to just kill her; they aim to send her straight to hell.
A rival group may be going after the same targets, including Sen. John Kershaw, who was born with a silver spoon in his mouth and served in Vietnam on a brown-water Navy patrol boat. Grossman writes that after intentionally wounding himself in order to get a Purple Heart, Kershaw then denigrated American troops when he testified before a congressional committee. Grossman says "he became hated by all soldiers" who were fighting for their country and their lives.
The leader of the group of enraged vets lives on a large ranch in Arizona and feels increasingly isolated from a world he thinks has rejected him. His goal is to put together a new A-Team, drawing men from VA clinics. He thinks of them as his "band of merry men." Meanwhile, former detective Jerry Andrews volunteers to help law-enforcement with the cases.
I suggest reading this novel about murdering prominent people who protested the war as a fantasy. If that sounds like your thing, the story is well written and moves fast.
–Bill McCloud