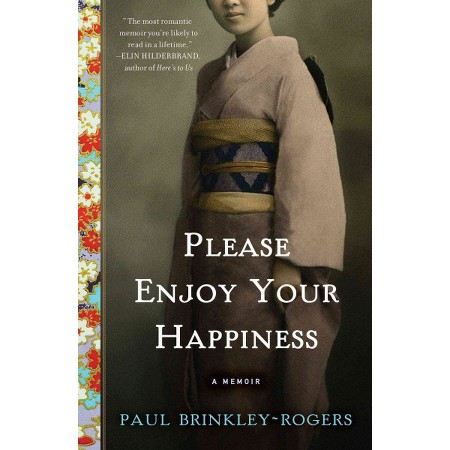 In 1959 at age nineteen, U.S. Navy enlistee Paul Brinkley-Rogers fell in love with a thirty-one-year-old Japanese woman—Kaji Yukiko. Fifty-five years later, Brinkley-Rogers—who went on to become a Newsweek correspondent who covered the war in Vietnam and Cambodia for eight years—recreates that platonic relationship in Please Enjoy Your Happiness (Touchstone, 333 pp; $25.00 paper). In speaking across half a century, he tells Yukiko, "I never was awed as I was when I was close to you." Practically every sentence in the book supports that declaration.
The relationship lasted for six months while his ship—the aircraft carrier U.S.S. Shangri-La—operated out of Yokosuka, Japan. Actually they spent only forty-five days together when "the ship was anchored in your harbor," Brinkley-Rogers writes, but they communicated by letter while he was at sea. The book contains ten of Yukiko's letters that focus on his future.
The two instantly bonded while she served as a geisha-like hostess at a bar called the White Rose. In their limited time together, she opened the doors of the arts to Rogers and provided him with guidance for a lifetime. Virtually every experience with Yukiko provided enlightenment for him.
Yukiko's education extended deep into Eastern and Western music, poetry, and cinema. Raised in Manchuria, she fled to Japan following World War II to escape the Soviets. Amid the post-war chaos, a Yakuza gangster took her as a mistress. Her ultimate release from the gangster partially involved Brinkley-Rogers.
English by birth, he grew up under an estranged mother and domineering father. The family moved to the United States in his late teens. After high school, he joined the Navy to escape from home and find his identity.
As a leftist thinker and with a high regard for the downtrodden, the young Navy man easily developed an appreciation for all things Japanese. More than once, he berates America for bombing Japanese cities and civilians during World War II. Yukiko integrated him into a segment of Japanese society in a manner that nullified any stigma he had as an American sailor.
Many people, including a Japanese detective, found reasons for helping Brinkley-Rogers. They appeared to appreciate his exceptionally astute mind and positive nature. I strongly doubt that time might have distorted his memory of 1959 because, along with Yukiko's letters, he frequently refers to photographs and notes from the past.
After the Shangri-La completed its deployment and returned to the United States, Brinkley-Rogers and Yukiko never met again.
Reading Please Enjoy Your Happiness is a cerebral exercise. The writing .imbued me with nostalgia for my late teens and early twenties. The author cited almost-forgotten poems and words from songs to emphasize the lessons Yukiko taught him. In a subtly funny way, he describes his commander and the ship's chaplain and their close-to-fanatical zealousness to control his thinking and actions.
Fundamentally, the book's story line falls well outside the values of today's young people, but the same observation applies to the time in which it took place. Which is what makes the book timeless and interesting.
Before retiring to Arizona, Paul Brinkley-Rogers spent much of his life in the Far East as a journalist. He shared a journalism Pulitzer Prize in 2001.
—Henry Zeybel