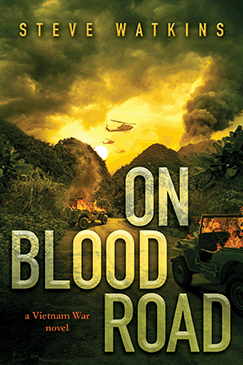 Steve Watkins is a former professor of journalism, creative writing, and Vietnam War literature, and the author the Ghosts of War series, which includes Lost at Khe Sanh and AWOL in North Africa.
His new YA novel, On Blood Road (Scholastic, 288 pp., $17.99, hardcover; $11.99, Kindle) is one of the best books of any sort that I've read dealing with the Ho Chi Minh Trail, the "Blood Road" of the title of this book.
Watkins has created a believable sixteen-year-old character named Taylor Sorenson who manages to get himself captured in South Vietnam during the war, made a prisoner of the VC, and marched toward the Hanoi Hilton. He does not make it there, but has many adventures in transit. Just about every bad thing that can happen to a person in that situation happens to the young man, including losing a leg.
Taylor is the son of one of the architects of the American War in Vietnam. He flies to Saigon with his mother to spend time with his father who is busy running the war. When the NVA find out, they see him as a potential bargaining chip in negotiations.
The author presents the reader with most of the usual things that a Vietnam War infantry novel would deal with. That includes John Wayne, Agent Orange, napalm, and Puff the Magic Dragon gunships. Taylor's main captor is a young VC who speaks French, which Taylor is fluent in, so there is no need for them to speak Vietnamese.
The book is very poetically written, perhaps a bit more poetical that a typical sixteen year old would write, but Taylor is not a typical teenager in any way. He is against the war when he arrives in Vietnam, but that is no advantage to him. The publisher tells us that death "waits around every bend," and that is certainly true in this book.
On Blood Road is aimed at the teen-aged reader, but I found it very readable and informative and doubt that any teenager would struggle to read it. Adult readers would also find the book well worth reading.
I am glad that I got a chance to read this superb book and highly recommend it to young and old.
—David Willson