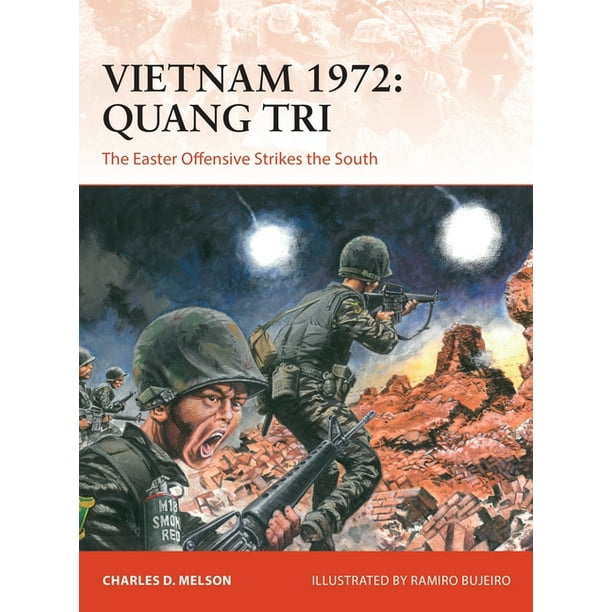 Charles D. Melson's Vietnam 1972: Quang Tri: The Easter Offensive Strikes the South (Osprey, 96 pp. $24, paper; $9.99, Kindle) is interesting on several levels. It's about the hard-fought battle to retake Quang Tri during the North Vietnamese Army's 1972 Easter Offensive and the crucial role the South Vietnamese Marines (VNMC) played in defeating the NVA. It also is an account of the U.S. Marine Advisory Unit's role during the offensive. 
Charles Melson, as a former Marine Corps Chief Historian, has an in-depth familiarity with his book's subjects, especially the Vietnamese Marines and their American advisers. Before jumping into the central thesis of the battle for Quang Tri, Melson dwells on the culture and traditions of the VNMC. As a side note he addresses the political alliances between elite units and their benefactors. 
In 1972 the VNMC had a special relationship with South Vietnamese Vice President Nguyen Cao Ky. The Vietnamese Airborne, in contrast, was aligned with Ky's rival, President Nguyen Van Thieu. That situation likely played a role in the poor command relationships in the Marines, including senior officers who were more political than professional.
Both units were highly reliable combat forces that formed the strategic reserve of the South Vietnamese military. Before the narrative moves on to the Easter Offensive Melson provides a detailed account of the orders of battle of both sides and descriptions of key personalities.  
The pace of the book picks up once Melson begins his play-by-play description of the Easter Offensive's thrust across the DMZ and the fall and recapture of Quang Tri. The rapid NVA divisions heavily equipped with armor and air defense systems brought out the very best—and the disgraceful worst—in the South Vietnamese forces. Most glaring was the lack of effective leadership and operational sense at the most senior levels of command.  
This happened as some South Vietnamese units, mainly the Marines, tenaciously fought to prevent a North Vietnamese breakthrough to Da Nang and Hue and what would have been an envelopment of South Vietnamese forces. The fall of Quang Tri City was a major setback for the South Vietnamese because it had tremendous symbolic value for the North and was a humiliation for the South.
The final chapters of this history capture the bitter struggle by both sides as the South's Marines and Airborne Division supported by Rangers defeated the North's best units in ferocious fighting. After 138 days of occupation, Quang Tri was finally liberated by South Vietnamese forces.
For some, it may be an eye-opener to learn about South Vietnamese units that had no reluctance to take on the best the North had to offer—and to defeat them. For that alone, it's worth the time to read this short, heavily illustrated book. The excellent maps, illustrations, and photos are a real plus.
–John Cirafici