In Thunder: Stories from the First Tour (Outskirts Press, 284 pp. $19.95, paper), Jack Heslin presents a thoughtful, often hypnotic, account of his experiences as a UH-1 Huey assault helicopter pilot in the Vietnam War in Kontum Province in 1967-68. With an engaging and nuanced style, Heslin conveys the practical and emotional—and even sometimes the metaphysical—aspects of his first tour of duty. He informs his readers—and puts them in the cockpit beside him. 
Heslin attended Providence College and then was commissioned in June 1965. After Airborne training at Fort Benning, he joined the 82nd Airborne Division. Then came Rotary Wing School at Fort Wolters, after which Heslin joined the 57th Assault Helicopter Company at Fort Bragg.
When he arrived in Vietnam, Heslin learned that the 119th Assault Helicopter Company at Camp Holloway in the Central Highlands needed an aviation platoon leader. He immediately volunteered and got the job. During the next twelve months he flew hundreds of missions, was promoted to captain, and then became the company operations officer.
The 119th made many long flights during the Battle of Dak To, bringing troops and supplies to remote areas and taking out the wounded. Heavy enemy fire at the landing zones destroyed several helicopters and damaged many more in the Central Highlands' rugged terrain.
Heslin instills his words with warmth and humor, yet he readily acknowledges the fear that went with the work. He accepted it as an immutable condition, and acknowledged that if the worst happened, it happened..
Of exceptional interest are Heslin's recollections of one supply mission to troops on a ridge line south of Dak To. Reaching them required making a vertical descent through a "hover hole" in the jungle canopy, barely wide enough to accommodate the ship. Any contact between the rotor blades and the trees could mean death.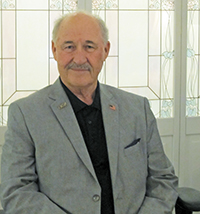 Heslin relied on his door gunner and crew chief for constant guidance, such as "down two feet, now slide left three feet and come down ten feet." As they approached the ground, the canopy closed above them, blocking out the sky and immersing them in a shadowy world of green.
"It was the most intense flying I had ever done up to that point," Heslin writes. "I'd graduated from flight school with top grades for my flying ability, but nothing had prepared me for this kind of combat flying. I was at the extreme edge of my abilities and the capability of the Huey aircraft we were flying."
Thunder illustrates the launch of Heslin's extraordinary career as a pilot, operations officer, flight instructor, and more. Readers seeking a thoughtful, personalized account of flying over unforgiving terrain at the height of the Vietnam War should have Jack Heslin's memoir on their bookshelves.
–Mike McLaughlin