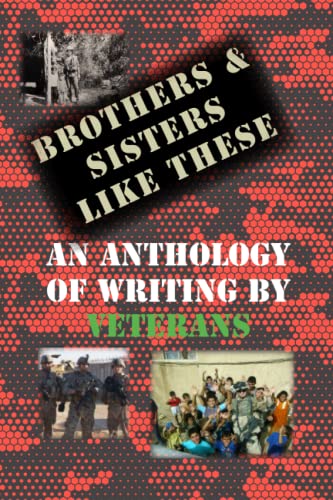 Brothers & Sisters Like These: An Anthology of Writing by Veterans (Redhawk Publications, 185 pp. $15, paperback) is a collection of 77 very short stories and poems by 36 North Carolina veterans, with a Preface by Dr. Richard Kelly and an Introduction by Elizabeth Heaney.
"Writing programs for veterans have existed since the Second World War to help veterans make sense of their military experience and honor the voices inside needing to be heard," Dr. Kelly notes. The selections in this book come from one such program.
Some notable entries include:
"A Good Place," in which Mike Smith visits the Vietnam Veterans Memorial, climbs a ladder, and as he reaches "toward Larry," the names on The Wall start to come to life.
"Shiva's Dance Card" by Pete Ramsey, which deals with American troops trying to negotiate with a Vietnamese woman to make up for the loss of her two ducks.
Steve Henderson's "Tribe," in which he writes that "To meet and share all of our stories and understand the times, the dangers, the emotions, has been uplifting and therapeutic for me."
"What I Brought Back" in which Ted Minnick writes that he returned from Vietnam with "an appreciation for brotherhood, a deeper appreciation for spouse and family, and a sneaky hidden disease called Agent Orange."
Renee Hermancek, who served during Desert Storm, writes: "Being a woman, the uniform carried more for me and others. M.W. Whore. Bitch. Marine. Teammate. Job title. At any moment I can fulfill any one of those titles or all of them depending on who I'm speaking to."
"The Pillowcase," by Midge Lorence, which deals with her husband dying in hospice, leaving her with feelings of anger and his pillowcase that she doesn't want to remove from its pillow.
"One of These Boots" by Gabriel Garcia, a poetic tribute to the men and women who perished during her nine months in Afghanistan.
"No Escape," in which Vietnam War veteran Ray Crombe is trying to get away from PTSD. Here's his last paragraph: "It was a long road back, and for so long, I thought the suffering was deserved – the warranted consequences of poor choices. I instinctively knew that Justice is getting what we deserve. Then found out that Grace is getting God's Goodness – which we don't deserve. But for which I – for one – am eternally grateful."
Frank Cucumber's poem, "I Used to Be," is about how his Drill Instructor at Fort Gordon made him into who he is today. It's not something he's proud of.
This isn't the type of anthology you judge on its literary merit. The work here is about honesty and truth and the courage to dig deep down into yourself and have the willingness to bring what you find out into the light.
Brothers & Sisters is one of the few books that nothing negative can be said about. It's a literary powerhouse.
–Bill McCloud