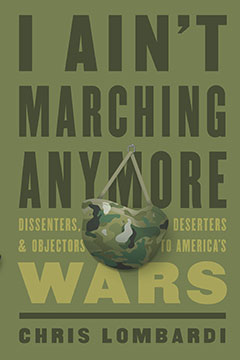 On their course through life, most people devote themselves to causes. Some are good; some not so good. Journalist Chris Lombardi discovered her cause in sixth grade after reading U.S. Army Dr. Howard Levy's Going to Jail and learning to her disappointment that America incarcerated prisoners of conscience.
While a college junior in 1982, Lombardi wrote a play about Vietnam War draft resisters called Too Many Martyrs, the title of a Phil Ochs protest song. She also worked with the Central Committee for Conscientious Objectors and met many Vietnam War veterans. Those relationships led her to write I Ain't Marching Anymore: Dissenters, Deserters & Objectors to America's Wars (The New Press, 320 pp.; $27.99, hardcover; $12.51, Kindle), again using an Ochs title.
Lombardi's work has appeared in The Nation, Guernica, The Philadelphia Inquirer, and ABS Journal. In I Ain't Marching Anymore, her first book, Lombardi investigates American military dissenters, including conscientious objectors, from before the Revolutionary War to 2020 in a dozen chapters. I first read the chapters "1965 to 1980" and "1980 to 1991" to determine what Lombardi had to say about the U.S. military during and after the draft. In the Vietnam War chapter she provides a dramatic picture of the accumulation of tensions, in and out of the service, during the conflict.
She also writes about antiwar activities that were new to me. For example, in 1969, with information from like-minded Reservists, a few Vietnam vets captured two of three tanks in the middle of Philadelphia's Broad Street, delaying their transit from an armory to a shipyard. She has nothing but good things to say about Vietnam Veterans Against War, Jane Fonda, and John Kerry.
On the opposite side, she shows the near impossibility of becoming a conscientious objector while on active duty. Most who tried did not even get to the stage of filling out the form, she says. "I had six COs: two are in jail and four are back on the line," a battalion commander boasted. Lombardi reminds us that Gen. William Westmoreland originally labeled the My Lai killers as just a couple of bad apples.
She sees the design of the post-conscription military as an armed Peace Corps with new opportunities for women. Military recruiters sold enlistment by emphasizing job skills, cash bonuses, and escape from bad neighborhoods. Those enticements, she says, were designed to lessen the internal dissent that took place in the last years of the Vietnam War. During the 1980-1991 period, Americans fought in El Salvador, Nicaragua, and Panama during which there were brutal actions against civilians. In other words, little changed—and then along came the first Persian Gulf War, Afghanistan, and Iraq.
Lombardi's chapters covering recent decades make captivating reading. I found myself agreeing, disagreeing, and questioning her analyses. Her portrayals of Chelsea Manning, Leigh Winner, and other 21st-century war objectors would make good television documentaries. She praises Iraqi Veterans Against War. She seems to be saying that current antiwar activities reflect a strong political appeal, lessening the impact of morality. All of her writing is interesting.
The first half of the book, which covers the Revolutionary War to the war in Vietnam, offers arguments about both objections to war and about race relations. She presents these years more like a history lesson than an antiwar debate. The U.S. Army's heartless subjugation of Native Americans during Westward expansion, Mexicans during our war with them in 1846-48, and Filipinos during the Spanish-American War have a familiarity that still persists.
In writing I Ain't Marching Anymore, Chris Lombardi examines dissent in a manner that glorifies those who object to war as much as the public generally glorifies the nation's most heroic warriors. I strongly recommend that high school and college students read her book as part of establishing a value system for life.
Maybe a few older people can also learn from her.
The book's website is https://aintmarching.net
—Henry Zeybel