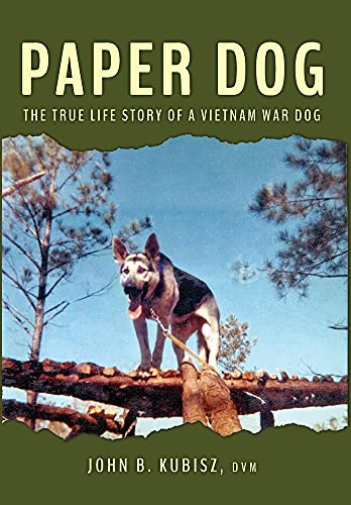 In Paper Dog: The True Life Story of a Vietnam War Dog (Elm Grove Publishing, 180 pp. $27.99, hardcover; $16.99, paper) former U.S. Army veterinarian John Kubisz tells the true story of a Vietnam War scout dog named Paper. Kubisz treated the seriously injured dog when he was the CO of the 764th Medical Detachment at Cam Ranh Bay in 1969.
Kubisz's publisher says that he "clearly has much in common with Hawkeye Pierce of M*A*S*H," so, being a fan of the TV series, I was excited to have this book in my hands. As I began to read, I did see some similarities between his life story and Dr. Hawkeye Pierce in the popular TV sitcom and Hollywood movie.
But I also was disillusioned with Kubisz's disdain for the Army. When most of us had to deal with less-than-stellar superiors, red tape, or insufficient materiel, we sucked it up and made the best of it while trying to follow military SOP. Kubisz, on the other hand, did it the Hawkeye Pierce way. One main reason for SOP is to enable a smooth transfer of duties when personnel are replaced. When Kubisz and his ragtag crew rotated back to The World, their replacements were left to deal with a nonstandard operation.
That said, this book is well written, well presented and a pleasure to read. Kubisz performed amazing—even heroic—feats with Paper and his other patients. He showed great compassion for the dogs and their handlers and he improved the level of veterinary care for all the U.S. war dogs in Vietnam.
The story of the dog named Paper and his 101st Airborne handler Tom Hewitt makes up nearly half of the book and is heartwarming and insightful.
Paper Dog contains a lot of good information and many photos. Be prepared to meet an Army officer with very little military bearing, but do read this well-written and very interesting book.
–Bob Wartman