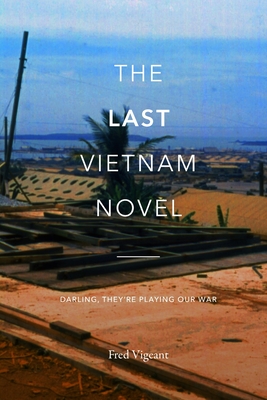 When I first picked up Fred Vigeant's novel, The Last Vietnam Novel: Darling, They're Playing Our War (336 pp. $14.99, paper; $2.99, Kindel), I immediately thought I was about to enter the world of the Preston Jones' play, The Oldest Living Graduate. Instead, I felt like Gulliver when he awoke in the land of Lilliput.
Above all, The Last Vietnam Novel offers a close examination of perspective and its role in how we determine our world views. While the book includes much humor and irony, the most potent message for this reader was the lesson in relativism.
The setting of Vigeant's novel is the future. The year is 2054, and the author's protagonist, Wonton Lively, the last living Vietnam War veteran, takes it upon himself to describe a future that the world has created. A world that takes absolutely no responsibility for the disaster it has created. As Wonton prepares for an interview with the "media giant Time/Netflix/Apple/Microsoft/Facebook/Pez," he reminisces about life during the war in Vietnam.
One of Vigeant's writing strengths is his ability to take the mundane, everyday routines of military life and turn them into magical stories that capture our attention and imagination. Another strength is Vigeant's ability to write vivid dialogue in a tongue-in-cheek satirical style. The verbal exchanges between Lovely and his counterparts build complete images of the characters in the Last Novel. Wonton Lovely's eloquence and post-ironic banter with a variety of characters sound natural and honest and, at times, reminds me of the work of the writer David Foster Wallace.
The story follows Wonton—the story behind the name "Wonton" is a great story in itself—Lovely's recollections about ROTC, his active-duty, training, his first assignment in the states, and finally his tour of duty in the Vietnam War as he prepares for his interview. Fred Vigeant, a retired high school chemistry teacher, served as an Information Officer with the Americal Division in Vietnam in 1971.
His book is composed of one hundred fourteen chapters. Each is self-contained and reads like an O. Henry short story.
In Chapter 28, "Major Alexander Seeks Respect," Vigeant shows a deep understanding of the absurdity of the human condition. Lovely has been assigned to the Information Office at Ft Lee and has to report to the IO's second in command, Maj. Alexander. 2nd Lt. Lovely has received orders for Vietnam and feels disposed to accept whatever requests the major has in mind.
The major wants Lovely to investigate why the guards at the entrance to Ft Lee do not salute him when he arrives on base. The conversation quickly devolves into one of those Catch 22 disjointed dialogues that use just about every form of ironic hyperbole, understatement, and rhetorical questioning imaginable.
The Last Vietnam Novel is a fast-paced and well-written book that I highly recommend. It goes down like Jack and Coke.
–Charles Templeton
Templeton, who served as a Marine Corps helicopter crew chief in the Vietnam War, is the author of Boot: A Sorta Novel of Vietnam. His website is charlestempleton.com