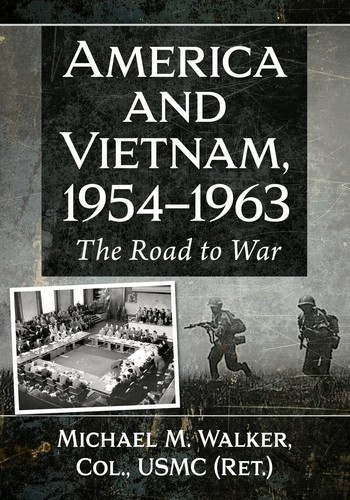 America and Vietnam, 1954-1963: The Road to War (McFarland, 391 pp. $49.95, paper; $22.49, Kindle) is an exceptionally well-researched and written history. It is an outstanding single-volume look at the Vietnam War's origins, examining how and why America's fate became entwined with the internal struggle between Vietnamese factions.    
The goals of this book are to identify the origins of the war, the nature of the adversaries, their capabilities, and the evolving commitment of the United States. In other words, what happened that led to America's direct and overwhelming involvement in a war the country chose to fight, not one we fought out of necessity.  
In answering that question, Michael Walker explains the very complicated power struggle following the end of the First Indochinese War in 1954 in the South, after which Ngo Dinh Diem created a functional state (the Republic of South Vietnam) in an otherwise dysfunctional mess.
Walker, a retired U.S. Marine Corps colonel, provides a complete picture of President Diem, who was a very complicated man, showing how he consolidated power. Walker claims that it was the one-sided and damaging treatment of Diem in the American press that contributed to the 1963 coup that resulted in his death.
Walker then explains how the North's highly experienced and disciplined Worker's Party quickly consolidated power after the French defeat in anticipation of future unification and the impact of the war in Laos on the conflict in Vietnam. The chaotic events of 1963–including a series a Buddhist-led protests against Diem, the U.S.-supported coup and Diem's assasination, as well as Hanoi's decision to exploit the post-coup instability in the South—changed the face of the war.    
To explain how a civil war between the northern and southern Vietnamese became a major part of American history Walker examines the decade immediately preceding the American war in Vietnam. He focuses on Resolution 15 issued by Hanoi in 1959, which formally began a second phase of the war, the first being the struggle for independence from the French.
Walker addresses the creation of armies in both the North and South and provides insights into the professional and highly effective use of intelligence collection and signals intelligence by the North. Perhaps the most impressive success of the North was the placement of agents into the highest reaches of the South's military and government.  One undercover agent who revealed his role after the war actually worked for American news correspondents and influenced their opinions about the war.  
This is an informative book that answers many questions about how the United States wound up fighting in Vietnam in a much-expanded conflict. It is well worth the time to read. 
–John Cirafici