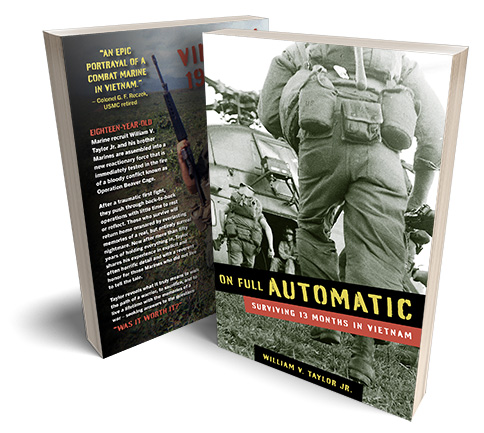 Theirs not to reason why,
Theirs but to do and die.
Those lines from Tennyson's "The Charge of the Light Brigade" were very evident during William V. Taylor's early days serving with Charlie Company of the 1st Battalion in the 3rd Marine Regiment in Vietnam in 1967-68. But as time wore on, casualties and rotations took experienced leaders off the battlefield. They were replaced with inexperienced leaders who were more concerned with their own survival and careers than with the survival and success of their men.
In his amazing new memoir, On Full Automatic: Surviving 13 months in Vietnam (Deep Water Press, 352 pp. $34.95, hardcover; $19.95, paper; $6.99, Kindle) Taylor recounts his nightmarish Vietnam War experience. The book opens on April 26, 1967, with 18-year-old Bill Taylor on board the USS Duluth, an amphibious transport ship. He and his fellow C/1/3 Marines were about to be helicoptered to a field 20 miles south of Da Nang. That's when Taylor's tug-of-war began, as the Marines took a location, only to give it back and return later to take it again.
Taylor tells of many enemy engagements, some large and some small, some won and some lost. In nearly all of them, there were two common denominators: incompetent leaders and casualties. He describes his tour of duty in a way that put me right there with him. Throughout the book I experienced fear, anger, and sadness—and very little jubilation.
Taylor's humility and matter-of-fact honesty overwhelmed me. As did his unwavering bravery and aggression on the battlefield. He includes some raw language used at that time and place. Some readers might find that offensive, but I found it essential in bringing me into the action.
I highly recommend On Full Automatic.
–Bob Wartman
Taylor's website, which includes a photos of C/1/3 Marines in Vietnam, is williamvtaylor.com