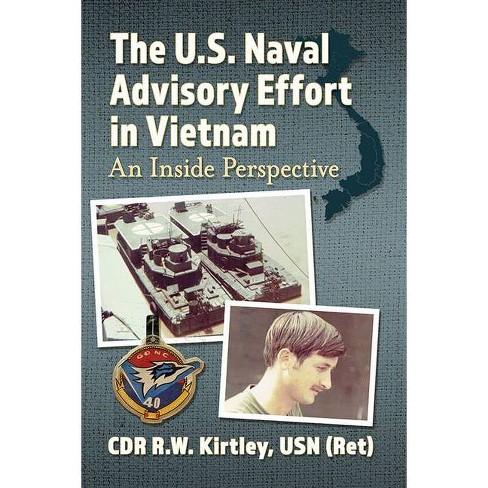 R. W. Kirtley's The U.S. Naval Advisory Effort in Vietnam: An Inside Perspective (McFarland, 218 pp. $35, paper; $16.49 ,Kindle) is, as the author puts it, an "expose and a confession of sorts." That is a fitting description since throughout the book, Kirtley offers strong opinions and seems fairly frank about his intentions and fears.
After graduating from the U.S. Naval Academy in 1967, Kirtley had a twenty-year Navy career, retiring as a Commander. In 1969 he served in the Tonkin Gulf on Yankee Station as a Gunnery Officer on the USS De Haven. From 1970-1971 he served with the Naval Advisory Group as Senior Adviser to the Vietnamese Navy in the Mekong Delta. Then, in 1972, Kirtley went back to he Saigon to help plan the U.S. Navy's withdrawal from South Vietnam.
After an abbreviated stateside training period, Kirtley was whisked off again to Vietnam and immediately placed in a difficult and dangerous position. He was given the job of helping the fledgling Vietnamese Navy become an effective force after the U.S. Brown Water Navy's withdrawal.
Kirtly seems to have done a good job learning on the job—and learning to survive. He also did well teaching military tactics and instilling some military order to the South Vietnamese Navy units. However, the job was not easy, especially trying to work through cultural differences about preventive maintenance on the equipment the U.S Navy turned over to the South Vietnamese.
This took place during Vietnamization. In the end, American advisers in South Vietnam were not given adequate time to complete their missions.
After his tour Kirtley was stationed in Washington, D.C., and worked on reassigning the massive number of Navy personnel leaving Vietnam. He later became a Supply/Contracting Officer.
I recommend The U.S. Naval Advisory Effort in Vietnam. I enjoyed the book and learned a lot, but I wish I had read Chapter 30, "Reflection and Takeaways," before starting it.
–Bob Wartman